Parliament bureau members during independence push get 20-month ban from office
Corominas, Simó, Guinó, and Barrufet convicted by Catalan High Court for disobedience for allowing MPs to vote on independence laws in 2017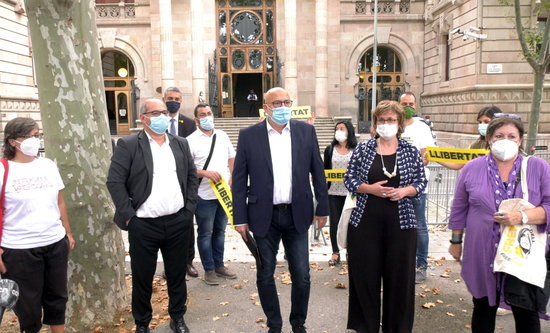 The Catalan High Court has handed down a 20-month ban from office to four Catalan politicians who served as parliament bureau members during the 2017 independence push for the crime of disobedience.
Lluís Corominas, Anna Simó, Lluís Guinó, and Ramona Barrufet were found guilty of defying orders from Spain's Constitutional Court for allowing MPs to vote on laws pursuing independence that had been deemed illegal.
They were fined 30,000 euros each.
The fifth defendant in the case, former MP from the far-left CUP party, Mireia Boya, was cleared of all charges. The court concluded that she did not play a role in the actions for which her colleagues were sentenced as she did not have a position that would have allowed her to intervene against voting on the measures and because she did not receive a warning from the Constitutional Court either.
"The Constitutional Court clearly could not warn me," Boya stated on Monday after the Catalan High Court ruling was made public. "In fact, the court does not have the authority to tell any Catalan parliament MP what to think, debate, or approve."
Current parliament speaker Roger Torrent reacted to the news of the four former parliament bureau members' conviction by tweeting his support for them and calling the High Court decision "a new attack on the parliamentary system and freedom of expression."
"Debating, speaking, and discussing anything freely in Parliament is not a crime, but a right," Torrent added.
Related trials
The trial of Joan Josep Nuet, who was also a parliament bureau member at the time, is yet to take place. As an MP in Congress for Esquerra Republicana, his case must be considered by Spain's Supreme Court.
Carme Forcadell, the former parliament speaker, was sentenced by the Supreme Court in October 2019 to 11 years behind bars for similar actions to those carried out by the other parliament bureau members. Forcadell had asked to be tried with them in Catalonia's High Court, but this request was denied. Along with the eight other jailed independence leaders, Spain's top court found her guilty of the crime of sedition.
While the Supreme Court trial of Forcadell and the other eight jailed independence leaders, who were among Catalonia's most important politicians at the time, was the largest trial resulting from the events of 2017, there are also several other legal proceedings with other defendants taking place as well.