Jailed pro-independence leaders request release after prison judge approves privileges
Magistrate keeps officials behind bars while waiting Supreme Court final say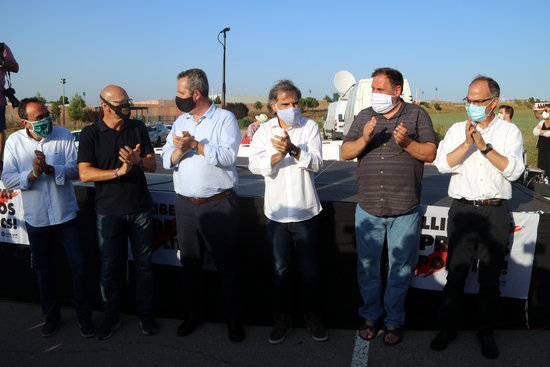 Three of the nine pro-independence jailed leaders have requested their release after a penitentiary judge approved their low prison category on Wednesday.
This grade is the one with the most privileges for inmates, allowing them to leave their cells on weekends, and spend three out of the seven nights of the week at home.
They were granted the low category status in mid-July by the Catalan administration, and were able to spend two weekends at home.
Yet, on July 24, the Supreme Court ruled that if the public prosecutor appealed, the low category would be suspended while a final decision is taken – this happened on July 28, meaning the nine leaders provisionally had the privilege removed, including that of leaving on weekdays to work or volunteer.
A Catalan penitentiary court rejected the prosecutor's appeal this Wednesday, but kept them in jail waiting for a final say from Spain's Supreme Court on the matter.
This sparked outrage from the individuals imprisoned for their role in the 2017 independence push.
On Friday, three of them, Jordi Sànchez, Josep Rull, and Jordi Turull, appealed the decision of keeping them provisionally in jail despite rejecting the prosecutor's plea.
For them, "it makes no sense" to keep the precautionary measure if the judge believes the appeal is baseless.
Prosecutor's "19th-century" arguments
The penitentiary judge said that the prosecutor's arguments "are more typical of a nineteenth-century system" and they only want to impose an "admonitory punishment" to the convicted officials.
Oriol Junqueras, the leader of pro-independence ERC who is also in jail, has not officially asked the precautionary measure to be lifted yet, but reacted strongly on Twitter: "They say we are right, but keep us in prison. Corrupts, mafia monarchs, rapists, and murderers have more rights than us."
His party colleague Raül Romeva said, in the same vein: "Vengeance weighs too much in this state, much more than justice."