Court suspends lowest prison category granted to five jailed independence leaders
Move comes after public prosecutor appeals conditions of six for creating "a sense of impunity"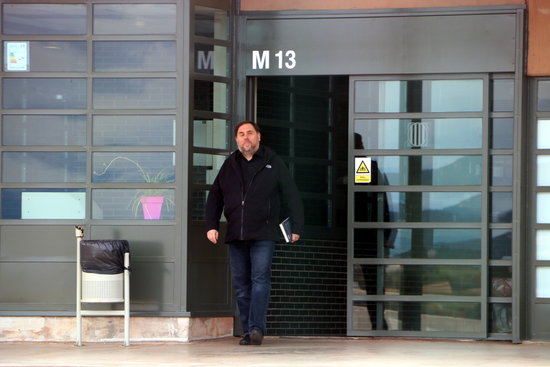 A court has suspended, effective immediately, the lowest prison category that had been granted to jailed independence leaders Oriol Junqueras, Raül Romeva, Jordi Sànchez, Quim Forn, and Jordi Cuixart.
Although their lawyers have three days to appeal, they will return to medium category conditions until the court rules on the matter, meaning they will not be able to leave prison for work tomorrow.
This comes hours after the public prosecutor's office in Barcelona appealed against allowing them and former parliament speaker Carme Forcadell to benefit from these eased conditions.
According to the prosecutor, giving them this category creates "a sense of impunity."
From now on, prison authorities will have to study each of their situations on a case by case basis before conceding privileges such as outings.
The lowest prison category, which came into effect for all nine jailed politicians and activists just under two weeks ago, allows prisoners to both spend weekends at home and work outside prison during the week while only having to return weeknights.
Catalan government responds to suspension
Catalan president Quim Torra reacted to the suspension in an institutional act on Tuesday night by calling it an act of "vengeance" and warned the Spanish government, which he views as being behind the move, that it must "demonstrate a desire to end hostilities against the independence movement" for dialogue to be able to take place.
According to the president, this will not be taken as a "defeat" but rather inspire the independence movement to "prepare itself better to stop being held captive by an authoritarian state" following what he described as the encroachment of Spain on what is the authority of Catalan prison administrations.
Torra's vice president, Pere Aragonès, was also highly critical of the move and accused the public prosecutor of "rupturing" talks between the Spanish and Catalan governments on the Catalan independence issue that have been put on hold due to the pandemic.
"Amnesty is essential in order to negotiate," said Aragonès.