Under what conditions will jailed leaders serve their sentences?
Politicians and activists convicted over 2017 independence bid to soon find out if they are due any privileges under terms of imprisonment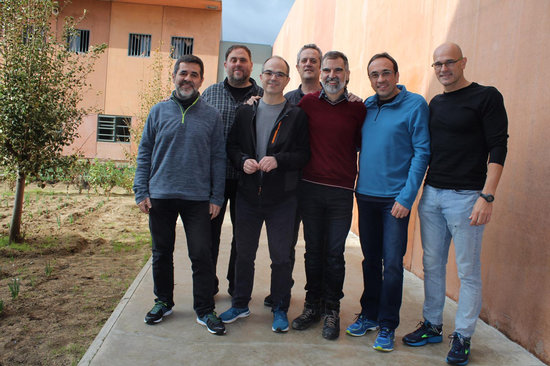 The Catalan politicians and activists, who in October were given jail terms of between 9 and 13 years for their part in organizing the 2017 independence bid in Catalonia, will soon discover under what conditions they must serve their sentences.
Even before Spain's Supreme Court sentenced them on October 14, all nine leaders were transferred to prisons in Catalonia, and are now under the supervision of the Catalan prison service, but which regime they will be subject to will be announced this week.
Spain's penal system is made up of three prison regimes, High, Medium, and Low, with the option of conditional release, with inmates categorized in one of the regimes depending on the seriousness of the offense, their level of intent, and their risk of harming others.
In the case of the Catalan leaders, two options can be ruled out: they do not fall into the High category, which is reserved for dangerous prisoners, and nor will they be conditionally released, which would allow them to live at home under certain conditions.
Two most likely prison regimes
Thus, the prison service will either put them in the Medium or Low categories, known as 'segon grau' and 'tercer grau' in Catalan. The former would see them locked up and subject to normal prison life, while the latter would allow them out at specific times.
The Supreme Court has already rejected the public prosecutor's request to deny the leaders the chance to apply for the Low, 'tercer grau,' category until half their sentences are served, and the high court will continue to have the final say on any privileges granted them.
It is rare for those recently sentenced or with long jail terms to be categorized as 'tercer grau' from the outset. This is the case of the leaders, who if given 'segon grau' status, will have to serve a quarter of their sentences before they can apply for the Low status.
However, in the event that some or all of the leaders are granted the Low 'tercer grau' status, that would allow them to spend weekends at home, and they would only be locked up in their cells every night from Monday to Friday.
Applying for prison privileges
The most common situation - and in this case the most likely - is that the leaders will be categorized as 'segon grau' inmates, with the activist leaders Jordi Sànchez and Jordi Cuixart becoming the first of them to be able to apply for their category to be lowered.
Sànchez and Cuixart, who were both sentenced to 9 years in jail for sedition, have already spent over two years in preventive detention, which means they will have served a quarter of their sentence and be able to request 'tercer grau' status by the end of January 2020.
At the other end of the scale is the former vice president, Oriol Junqueras, who was sentenced to 13 years in jail, and after spending slightly less time in preventive detention than the Jordis, will not be able to apply for his category to be lowered until February 2021.
When it comes to applying for any sort of privilege, a number of factors will be taken into consideration. A key one is the inmate accepting their guilt and showing signs of remorse, while all the nine leaders continue to insist that they are not guilty as charged.
Other options for leaving prison
Meanwhile, even if categorized as 'segon grau' inmates, the prisoners will be able to apply for certain privileges after serving a quarter of their sentence, such as 36 days leave from prison every year, although such a decision could be challenged by the prosecutor.
Another option for the inmates in terms of leaving prison as 'segon grau' inmates is to find a job. The law allows for prisoners to leave prison for a few hours to work, although as the leaders are barred from public office this would have to be with a private organization.
However, whatever decision the prison board finally makes on each inmate's case, the prosecutor will have the opportunity to appeal it, with the final decision lying with the Supreme Court judges who sentenced the leaders in the first place.
On Tuesday, lawyers from the ERC party headed by Junqueras predicted that the prisoners would be categorized as 'segon grau,' and are already preparing to challenge the decision and to ensure the inmates are granted privileges, such as frequent prison leave.