Face mask mandate outdoors will be lifted on June 26 when distancing
Protection will remain compulsory in public indoor spaces, public transport and open-air concerts when standing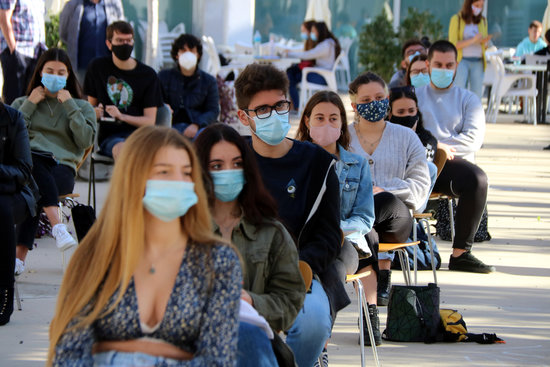 The obligation to wear masks outdoors will be lifted this Saturday, June 26, as long as a 1.5-meter safety distance is enforced – in case of crowds, everyone will have to wear them again, so it is highly recommended to bring them with oneself at all times in case it is needed in some situation. Yet, distancing will not be needed for those who are living together.
The protection will remain compulsory in public indoor spaces, public transport and open-air concerts when standing. When seated, it will not be necessary as long as the safety distancing is guaranteed.
These measures were approved by the Spanish cabinet in an extraordinary meeting on Thursday, and also include an obligation to use face masks in private transport of up to nine people when not traveling with one's bubble.
Care home users, but not workers, will not be obliged to use them anymore as long as over 80% of the people living in the center are already vaccinated. Firefighters and other employees spending very long shifts together will also be able to not wear the protection as long as 80% of those working in the site are already inoculated.
"Face masks will give way to smiles," said Spain's health minister, Carolina Darias, to the press after the cabinet's decision.
Face masks compulsory since May 2020
Face masks first became obligatory for all commuters on public transport in Catalonia and the rest of Spain on May 4, 2020. Two weeks later, the Spanish government made them compulsory both indoors and outdoors, "if it is not possible to guarantee a minimum safety distance of two meters." When the first state of alarm was lifted the following month, masks remained a requirement.
On July 9, 2020, the Catalan government enhanced the restriction making them compulsory even when safety distancing could be guaranteed. This was matched at a Spanish level in March 2021.
The measure has been applying to adults and children over the age of six in both outdoor and indoor public spaces.
Vaccine rollout key for ease of measures
The easing of the face mask mandate is also the result of the vaccine rollout picking up pace. Over 2.5 million residents in Catalonia out of the 7.7 million inhabitants are already completely inoculated (32%), and over 80% of the people over the age of 50 has at least received the first dose.
Indeed, as of June 23, 2021, 3,914,200 residents have been given the first dose of the vaccine, 49.9% of the total population. Out of those, 2,268,581 have also been administered a second dose (28.9% of the total population). 2,515,310 residents are considered to be fully immunized (32%).
Under 65s who have already had the virus are only required to have the first dose, and others have received a single-dose jab. Therefore, the % of two doses administered and % fully immunized do not match.
On Wednesday, it was announced that people born between 1987 and 1991 will be able to book their Covid-19 vaccination appointment from next Monday.