Face masks distributed as they become obligatory on public transport
Spanish government begins to give out 2.36 million masks in Catalonia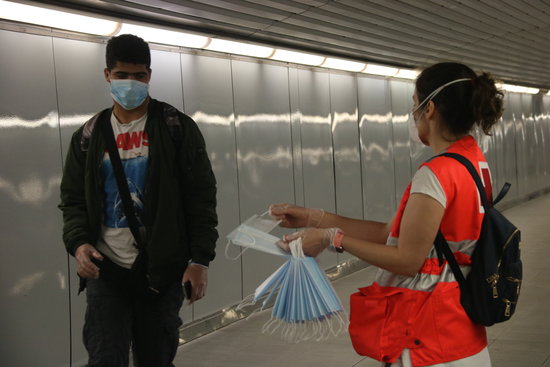 Starting on Monday, May 4, and coinciding with the beginning of Phase 0 of the coronavirus lockdown de-escalation plan, the use of face masks has been made obligatory for all commuters on public transport in Catalonia and the rest of Spain.
The Spanish government has begun to distribute 14.5 million masks – some 2.36 million in Catalonia – at 3,500 different points across Spain, including transport hubs, to promote their use on trains, subways, and buses.
Some of these masks have also been given to city, town, island, and provincial councils for distribution, a well as charitable groups like Caritas, the Red Cross, and the Spanish Committee of Representatives of Persons with Disabilities (CERMI).
The four Catalan provinces have seen a total of 1,744,000 sent to Barcelona, 245,000 to Tarragona, 237,000 to Girona, and 134,000 to Lleida.
As for the number of masks handed out to people in Barcelona, figures have decreased considerably compared to those seen three weeks ago when workers in non-essential sectors were allowed to return to their places of employment, and on Monday there were no Red Cross volunteers to be seen at major hubs like Sants.
According to state-owned passenger train operator Renfe, this is due to both an overall decrease in the number of commuters – Renfe trips are down 88.9% in the Catalan capital compared to the same time last year – as well as the fact that many people already had their own face masks.
Other parts of Barcelona, like Plaça Catalunya, did have Red Cross volunteers handing out masks on Monday, yet there were also fewer commuters than three weeks ago.