Spain introduces mask mandate—even when social distancing or on beach
Stricter than Catalonia's seaside and pools exemption, new measure applies to all over age of 6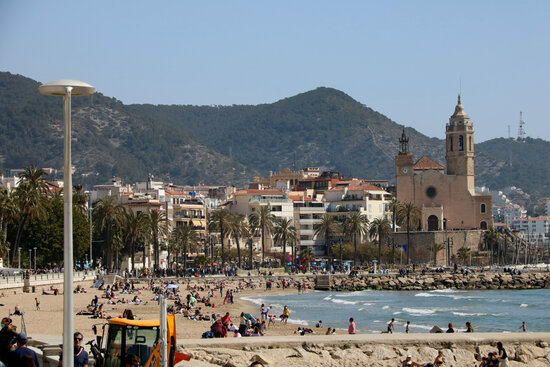 The Spanish government has introduced a new mask mandate requiring their use in all public open-air spaces as well as indoor areas open to the public, even when social distancing is possible, as was already the case in Catalonia.
The new law published in the official gazette on Tuesday, however, does not include exemptions for certain places, meaning that it also applies while on the beach or at swimming pools.
The mask mandate will be enforced throughout Spain, including Catalonia, where the government had already passed a measure on July 8, 2020 that included all public outdoor and indoor places.
The Catalan norm did not explicitly mention beaches and swimming pools, but senior health department official Xavier Llebaria explained that it would be applied "with common sense."
He then said that there was "obviously" no need to wear it while swimming or sunbathing, but that it would make sense when entering the beach area or taking a walk on the sand.
The only exceptions in the Spanish government law published are medical reasons, individual exercise outdoors, activities that are incompatible with face mask use, or force majeure.
Already in force in Catalonia, companies are also required to introduce safety measures in the workplace as well as "guarantee the availability of protective equipment" for staff and patients at medical centers.
At schools, measures must be taken to ventilate classrooms and to avoid crowding, something also introduced in 2020 in Catalonia, while action to guarantee health safety is also required at care homes.
Distances of at least 1.5 meters must be kept between staff and customers at restaurants, hotels, or cultural, sports, and other venues or "appropriate hygiene measures to prevent the risk of transmissions" will have to be introduced.