Face masks to be mandatory across Catalonia from Thursday, president announces
Fines of 100 euros for non-compliance, with exceptions for "incompatible" activities such as doing sport or exercise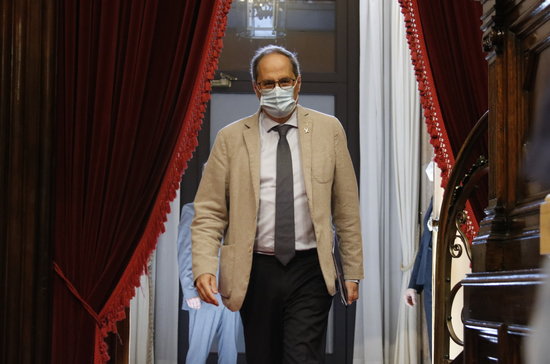 The use of face masks will be made mandatory throughout Catalonia on Thursday, as announced by President Quim Torra on Wednesday morning.
The measure to prevent the spread of the coronavirus will apply to adults and children over the age of six in both outdoor and indoor public spaces.
Following the approval of the move by Catalonia's Civil Protection authorities on Thursday afternoon, government spokesperson Meritxell Budó confirmed that exemptions will apply when the "nature of the activity makes it incompatible," such as in summer camps or when doing sports or exercise.
Health minister Alba Vergés said that habits have to change and people must get used to wearing a face mask when leaving home. The general rule, she said, is that everyone "leaves home with the mask on", adding that "we must all keep in mind that we are potential carriers" of the virus.
Those failing to comply with the measure will be sanctioned with a fine of 100 euros.
Vergés did not specify if masks would have to be worn while at the beach, saying that Civil Protection will publish a list of answers to FAQs.
"Regardless of safety distances"
Earlier in the week Budó advised that the measure will be applied in "both public and private" spaces, even when the safety distance of 1.5 meters can be guaranteed. "Regardless of safety distances, people will have to wear a mask at all times," she stated.
Following a meeting of the executive on Tuesday, Budó said that the mandatory use of masks will prevent people from letting their guard down with regard to coronavirus.
Earlier on Tuesday, the health minister Alba Vergés had raised the prospect of compulsory face masks when speaking to Catalan radio station Rac1. "There is starting to be a lot more movement of people, and to reduce the risks I think it's important to implement this measure."
Home confinement up to experts
Quim Torra also announced that he will decree home confinement measures when experts recommend such a move. The comment came as the western Catalan region of Lleida is under lockdown after numerous outbreaks of Covid-19 have been detected there in recent weeks.
"If home confinement needs to be taken we will do it, but we will always listen to the experts," Torra argued. At the moment this scenario is not contemplated.
The leader of the Catalan Socialists, Miquel Iceta, said that he was "concerned" by the outbreaks seen in Lleida.
Iceta insisted that it is already "too late" to control the resurgence in Lleida and the Segrià county, and that there can be no "excuse" or "consolation" that the Spanish government has also acted slowly to coronavirus clusters.
Iceta also said that the public does not trust the executive. In response, Torra asked how Iceta can trust the Spanish government if it has not yet given data on the victims in nursing homes.