Covid could reduce life expectancy in Catalonia by up to 1.5 years
British variant currently makes up 22% of Covid cases but no "significant increase" in overall infections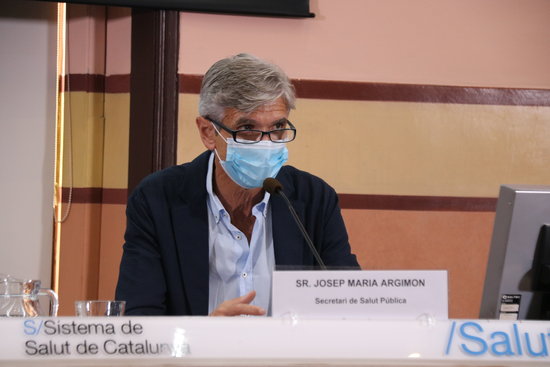 Average life expectancy in Catalonia could be reduced by between 0.9 and 1.5 years due to Covid-19, according to Public Health secretary Josep Maria Argimon.
Speaking at a press conference on Wednesday, Argimon emphasized that the figures were an estimate only, and that any reduction in expected lifespan would be "short" and would be reversed quickly.
The health official outlined that there were two main reasons for the drop. Firstly, all health resources during the pandemic were concentrated on tackling coronavirus, and secondly, people had a certain reluctance to seek medical help. These two factors together led to some delays in diagnoses and treatments that could potentially have a negative impact on life expectancy.
The last time a reduction in life expectancy was recorded was during the Spanish Civil War, fought between 1936 and 1939, and, before that, during the Spanish flu, a century ago.
British variant
Argimon also revealed that the British variant currently makes up 22% of Covid-19 cases in Catalonia, but that it did not seem to be spreading particularly quickly.
"In general, across Catalonia we're not seeing a significant increase in infections and transmission rates."
He did warn that it was necessary to stay vigilant, however, saying "things can change from one moment to the next," and repeating his prediction that in about three or four weeks the British variant will be predominant.
The health secretary also pointed out that no further cases of the South African variant have been discovered in Catalonia since the first one was confirmed one week ago.
Debate reaction
During Tuesday night's TV election debate, Laura Borràs – candidate for the pro-independence Junts per Catalunya – revealed that Josep Maria Argimon would be health minister if she leads the next government.
Argimon thanked Borràs for the namecheck today, grateful for the "recognition" of the work being done, but he stressed that he was part of a team, under the leadership of the Catalan health minister Alba Vergés.
The health secretary said he had "deep professional respect" and "a good personal relationship for many years" with Vergés and that he remained focused on tackling the pandemic.
Vergés is a member of Esquerra Republicana, also in favor of Catalan independence but election rivals to Junts per Catalunya.