40 MEPs urge chamber to protect Puigdemont, Junqueras and Comín's immunity
A petition has been sent asking president of European Parliament Sassoli to reconsider the situation of the jailed leaders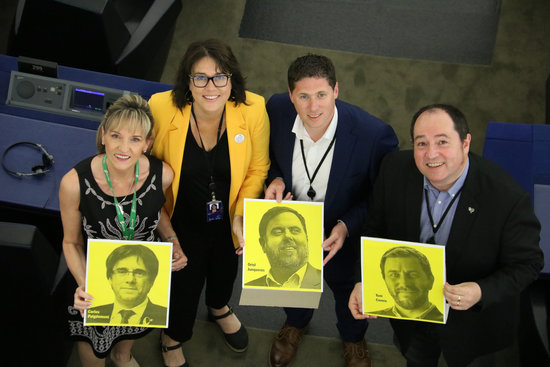 Around 40 MEPs have presented an appeal before the president of European Parliament David Sassoli, seeking that immunity for jailed political figures Carles Puigdemont, Oriol Junqueras and Toni Comín ahead of the Catalan trial verdict.
The petition has been put together by MEPs from five different political groups in European Parliament, most notably ecologist group Greens/European Free Alliance, European United Left/Nordic Green Left, and the New Flemish Alliance, part of the European Conservatives and Reformists.
With the request, they are hoping to force the Committee on Juridical Affairs to study the situation of the three jailed or exiled MEPs, who were prevented from taking up their seat in June.
In short, they want European Parliament to ensure their "rights and immunity" and demand that the only means of suspension is by an explicit request from Spanish authorities.
This comes a few days before the European Court of Justice's hearing on Junqueras' immunity, and before the Supreme Court releases the verdict on the jailed political leaders. Both are set to take place next Monday.
The MEPs behind the petition condemn that, although euro-parliamentary immunity is conditioned for ''certain administrative procedures'' of member states, an ''unwarranted distortion'' of this European protection system can be generated.
''Immunity would lose all of its meaning should a member state imprison or refuse release to elected MEPs, preventing them from acquiring the status of an MEP," the request argues.
Junqueras, Puigdemont and Comín were elected as MEPs in the European elections on May 26. However they could not take office since they were not allowed to take Spain's constitution oath in Madrid – a mandatory step according to Spain's legal framework.
The three leaders however were not allowed to take up their seats as MEPs. Junqueras was denied permission to leave prison to take the oath, while exiled Puigdemont and Comín were not allowed to take the oath via a representative.