European Parliament president 'not in a position' to treat Catalan leaders as future MEPs
Seat of jailed Oriol Junqueras will be left vacant by his European group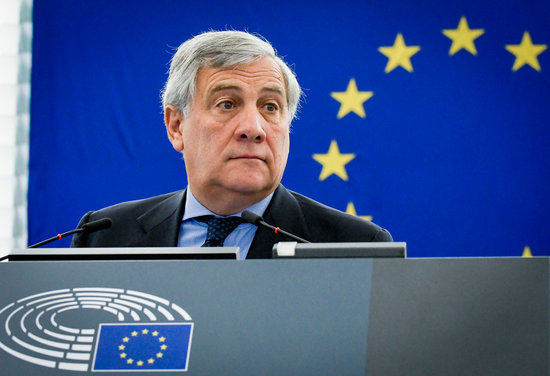 Antonio Tajani, the president of the European Parliament, has declared that he is "not in a position" to treat pro-independence Catalan MEPs-elect Carles Puigdemont and Toni Comín as "future members of the Euro chamber."
Puigdemont and Comín, both in exile since the fallout of the independence push in 2017 and still wanted by the Spanish authorities, were elected as MEPs in the recent European elections, but have not been able to take up their seats as they would need to travel to Madrid to do so, where they would presumably be arrested.
Meanwhile, the Greens–European Free Alliance have announced that they will leave a seat vacant for their jailed member Oriol Junqueras. The first plenary session of the European Parliament since the most recent elections is set to take place next Tuesday.
Tajani rejected the Catalans' requests to be treated as MEPs and enjoy parliamentary immunity in a letter seen by the Catalan News Agency. The Italian also denied that the European Parliament would intervene in their case.
"Until further notice by the Spanish authorities, I am currently not in a position to treat them as future members of the European Parliament," Tajani concluded in a brief, two-paragraph letter.
The president of the European Parliament argued that in case of disagreement, Puigdemont and Comín should complain to the Spanish authorities and courts.
"Not normal"
The press officer for Oriol Junqueras' party, Greens–European Free Alliance, Ruth Reichstein, described the situation of having to leave a seat empty as "not normal."
Speaking in a press conference on Friday ahead of the opening plenary session next week, Reichstein said: "We do not know yet what will happen, so we will have an empty seat, a fact that we can not find normal."
"There is a member of our group that is in jail in Spain and who was not allowed to go to Madrid [to collect the record] because they were afraid of parliamentary immunity," Reichstein said.
The party plans to make the empty seat visible in some way, for example with the name of Junqueras or a yellow ribbon, the symbol of solidarity with the jailed and exiled Catalan independence leaders, although the exact manner has not yet been specified.
Earlier this week, a judge left the door open to potentially seeking the advice of the European Court of Justice over the issue of immunity for Junqueras. However, state prosecutors have said it is not "necessary nor obligatory" to request this advice.