Supreme Court refuses to withdraw arrest warrants against exiled leaders
Puigdemont and Comín had demanded the withdrawn so they can take up their seats as MEPs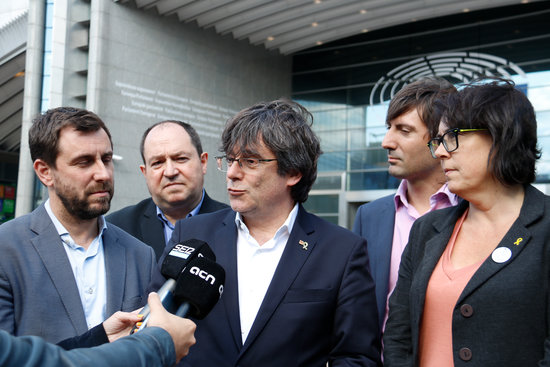 Following their election as MEPs, the defense teams of exiled former president, Carles Puigdemont, and his former health minister, Toni Comín, called on the Supreme Court to withdraw the arrest warrants against their clients in Spain. But the court refused it on Saturday.
The lawyers of the two former officials, who went to Belgium in the wake of the failed independence bid in Catalonia in 2017, argued that the arrest warrants should be withdrawn after they both won seats in the May 26 European election.
In separate appeals, the defenses argued that Puigdemont and Comín "are European parliamentarians elect" and demanded the orders be withdrawn so they can "comply with what the state law stipulates," in reference to the procedure for MEPs to take up their seats.
Spain's electoral authority explicitly obliged them to go to Madrid to take up their seats on Thursday evening.
On Friday evening, the public prosecutor sided against both politicians' request, while hours later, on Saturday, the judges in the Supreme Court decided likewise.
MEP immunity not a "privilege" but a "guarantee"
The appeals also argued that the immunity from prosecution that MEPs enjoy is not a privilege that benefits the individual, but rather "a guarantee of the freedom and independence of the [EU] institution and its members before other powers."
According to the lawyers, preventing the MEPs-elect from formally taking up their seats "is not only erroneous and anti-democratic but clearly goes against [Spain's] internal law and the law of the [European] Union.
Puigdemont's defense asked the high court to resolve the issue in a maximum of three days to avoid a violation of its client's rights and those of "more than a million voters." Spanish MEPs are due to formally take up their seats in a ceremony in Madrid on June 17.
In its ruling, Spain's Supreme Court said that the immunity of MEPs only applies after the European Parliament session starts on July 2 and refused Puigdemont and Comín's requested to be able to come back to Spain without being arrested.