Catalan Christmas: Cava and Kings, where children get to beat a log until it poos out their presents!
Logs that poo presents, men with 365 noses, and cakes with hidden surprises, Christmas in Catalonia has many of its own unique traditions. These include 'Caga Tió' - a log that brings edible goodies to children; live nativity scenes featuring 'El Caganer' - a humorous hidden figure to bring good luck, and 'El Tortell de Reis' a cake that can turn you into a King. While the Santa-led celebration on the 25th is becoming increasingly important due to marketing and globalisation, in Catalonia traditionally the biggest day (when children receive presents) is the 6th of January, which is the 'Dia de Reis' (Day of the Kings), when kids wake up and discover presents brought by the Three Wise Men. The night before, the Three Kings parade around the main cities and towns, forming a big colourful and festive procession.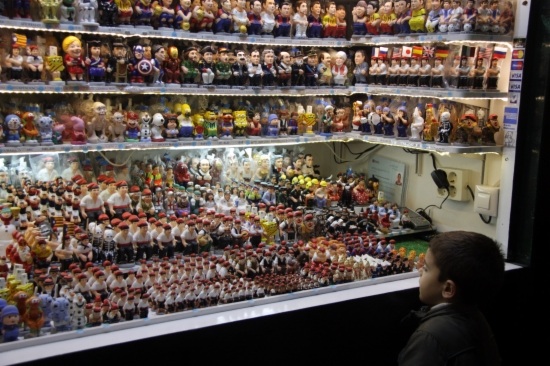 Barcelona (ACN).- Logs that poo presents, men with 365 noses, and cakes with hidden surprises, Christmas in Catalonia has many of its own unique traditions. Like many places around the world, the Christmas period in Catalonia is celebrated with the traditional lights, decorations and lavish family meals. Here however, there are also some unique traditions to be found. These include 'Caga Tió' – a decorated log that brings edible goodies to children on Christmas Day; live nativity scenes featuring 'El Caganer' – a humorous hidden figure to bring good luck, and 'El Tortell de Reis' – a circle-shaped cake with a hidden bean or king inside it, which can turn you into the 'lucky' buyer of the meal or King of the Day respectively. While the Santa-led celebration on the 25th is becoming increasingly important due to marketing and globalisation, in Catalonia traditionally the biggest day (when children receive presents) is the 6th of January, which is the 'Dia de Reis' (Day of the Kings), when kids wake up and discover presents brought by the Three Wise Men. The night before, the Three Kings parade around the main cities and towns, forming a big colourful and festive procession. Just before the end of the year is the Catalan April Fool's Day, known as 'Day of the Innocent Saints' for similar prank playing. New Year's celebrations are normally preceded by a meal with family or friends, and the year is ended by eating 12 grapes for the final minutes before midnight, to bring good luck. In the last few years, new traditions are added: Barcelona will be organising a large-scale street celebration of New Year's Eve for the second time. In addition, Catalonia will also be having its own Christmas lottery, also for the second time, and Barcelona is hosting one of the biggest ice-skating rinks in Europe in its main square, Catalunya Square.
On Thursday the 25th, Martí and Anna are wide awake at 7.12 am, sitting impatiently in their living room in Barcelona and 'waiting' for their parents to wake up. (i.e talking in stage whispers and making lots of 'accidental' noise!) As soon as the family are together on Christmas morning, Martí and Anna will beat a log with a stick until it "poos out" presents.
Yes, you did read that right! Here in Catalonia, there are many customs practiced during the Christmas period, some of which have been maintained for hundreds of years. Traditionally in Catalonia, people go to midnight mass on Christmas Eve, have a large lunch on the day itself, celebrate Caga Tió (the aforementioned log) and give presents to children on the 6th of January, after the 'Three Kings' arrive on the night before.
While increasing numbers of foreigners settling here, globalization and 'Americanisation' have meant that Christmas is becoming more commercial, with greater pressure on harassed parents for presents on the 25th itself (a phenomenon of more recent years) and an increasing presence of the Santa Klaus. Increasingly families, especially those of who are not from Catalan origin, are choosing not to celebrate Caga Tió. However, while the fat red man is not quite yet ubiquitous in Catalonia, but Caga Tió can still be seen in many markets and shops in the Christmas period.
Caga Tió the lovable log of presents
Caga Tió – which literally translates from the Catalan as 'Log Poop' – is a long practiced custom in Catalonia. Traditionally, before Christmas families would go out and find a log in the woods, paint a face on it, give it a 'barretina' (a red stocking hat customarily worn by Catalan peasants) and set it up under a warm blanket for the cold winter. Welcome home 'Log Poop'. Nowadays, versions of Caga Tió of all sizes, but keeping the classic image are sold around Catalonia.
From the 8th of December (the Immaculate Conception in the Bible), children 'feed' their Caga Tió. In the case of Martí and Anna above, they had been feeding him 'torró' (a traditional Catalan sweet similar to nougat) and bits of orange peel every night up until Christmas. Then on the big day, they sing him a song and beat him with a stick until, hey presto! The blanket is whipped back revealing presents! Traditionally it 'pooped' out the 'torró', tangerines and candy, but today it is more often presents for the children. Some families choose to do this on Christmas Eve, others on the 25th itself, depending on their preference.
This is one of the traditional songs for the Caga Tió, since each family has its own choice: "Caga Tió avellanes i torró. Si no vols cagar, et donarem un cop de pal." Which translates as: "Caga Tió hazelnuts and nougat. If you don't want to poo, we will hit you with a stick."
'El Caganer': a figure of good luck and dry humour
Like in many other countries around the world, here in Catalonia traditional nativity scenes are set up in churches, homes and in public spots around the city in the weeks leading up till Christmas. All the familiar figurines are there: Mary, Joseph, baby Jesus in the manger, the Wise Men and some animals for good measure. All sound familiar? What about the figure in the corner, squatting over to take a dump?
Not a joke. Here in Catalonia, this figure is known as 'El Caganer', Catalan for 'the Crapper'. Depicted in a position of defecating, to symbolise a bountiful harvest and good luck for the year to come, and they are hidden in the nativity scene, for discovery by amused children and adults alike. Their presence is also a reminder of our essential humanity, that there is always something to laugh about. It was also an idiosyncratic element and a way of making fun of the church, in a country with the Spanish Inquisition. It started in the 17th century, although its exact origin is unknown.
Traditionally, el Caganer would have been depicted as a peasant, with brown trousers (pulled down to the ankles of course) and the abovementioned red stocking hat, perhaps also pulling on a pipe. Today, one can find Caganer ceramic figurines of all sorts of people in Christmas markets around Catalonia, from celebrities such as Lady Gaga, Elvis Presley and Justin Bieber, to international politicians like Barack Obama, and even the Dalai Lama and Queen Elizabeth. Nature calls to everyone-from Spongebob Squarepants to Darth Vader!
Live Nativity Scene
Another Catalan tradition is to build a nativity scene, but this time not with small ornaments but with people themselves. In many towns throughout Catalonia, volunteers will dress up as the Biblical figures and act a performance of the nativity scene, for several weeks leading up to Christmas. They depict not only the nativity seen itself, but also the work of artisans and peasants of that time.
The live representation in Corbera de Llobregat, 25 kilometres from Barcelona, is one of the most popular Living Nativity Scenes in Catalonia. Performed at a peculiar red rock formation on top of the town, the tradition has been running every Christmas since 1962. Corbera's Nativity scene allows the visitor to walk among living figures, guided by public address explanations of the Gospel mixed with prose commentaries and folk poetry. Living Nativity Scenes are never the same; they evolve each season and they include new scenes, constructions and characters. Volunteers take it in shifts to act in performances organized at different hours throughout the day.
24th December: The night before Christmas,
While in the rest of Spain, the Castilian tradition would be to have a big meal the night before, the Catalan traditions is to eat lightly in preparation for the 25th and go to Midnight Mass. However, since 70% of the Catalan population has nowadays origins from outside Catalonia, coming from the rest of Spain but also from throughout Europe and the rest of the world, the 24th evening is also massively celebrated, with great family meals.
Midnight Mass is an important event in Catalonia, as Catalonia is historically Catholic and even those Catalans who may not go to Church regularly many attend Mass on Christmas. Traditionally, it is a festive occasion with the sermon succeeded by guitar music and singing to celebrate the birth of Jesus.
25th December: Nougat Time!
At around lunchtime, families gather and prepare themselves for an epic eating feast! Instead of turkey, the typical dish is a 'Escudella i carn d'olla' a slow cooked one-pot stew, full of meat, vegetables and traditional Christmas pasta called 'Galets de Nadal'. The mix of meats represents the traditional Biblical Saints: chicken (Peter), beef (Luke), lamb (John) and pork (Anthony) with a large meatball.
Other traditional dishes included delicacies such as shellfish including prawns, clams, and baby eels. All washed down with bottles of Cava wine, the most popular drink in Catalonia over the Christmas period, of which millions of bottles fly off the shelves in the weeks previous.
As for those with a sweet-tooth, there may be no figgy pudding on fire, but traditional desserts include 'torró', the nougat which comes in a variety of flavours; 'neules' thin cannelloni-shaped biscuits eaten with Cava (sometimes even used as a straw!); and, 'polvorones' which are popular sweets made from almond paste, coming from the Castilian tradition.
26th December: Sant Esteve (Saint Stephen's), the day of cannelloni
Here in Catalonia Boxing Day is also a holiday, an opportunity for people to spend time with their other family, or that of their partner. This day is a bank holiday in Catalonia and Catalan-speaking territories, but not in the rest of Spain. Traditionally on this day, people eat 'cannelloni' which are homemade pasta parcels made with the leftover stew from the Christmas meal the day before.
28th December: December Fool's Day
Three days after Christmas, is the Day of Innocent Saints; Catalonia's equivalent of April Fool's Day. As on April 1, it is a day for practical jokes, one popular trick being to stick paper-made and man-shaped silhouettes or pictures on the backs of unaware suspects. Media get involved as well: newspapers publish one fake article among all the rest. For instance, one year a newspaper printed the breaking news headline that the Crown Prince of Spain was to marry Madonna.
31st December: Magical Montjuïc and eating 12 grapes
Like many places around the globe, the New Year is brought in with a big party, but here in Catalonia the old one is ended first with a family dinner or a friend's get-together. One tradition throughout Spain is that the clock chimes twelve times before midnight, and for each chime a grape is eaten. For the greedy gobs able to eat all twelve, the year ahead will be full of luck!
Last year for the first time, Barcelona threw a big New Year's street party at the Montjuïc Fountains in Espanya Square. The famous Catalan theatre group 'La Fura dels Baus' and artistic company 'Focus' were the organisers, and planned to stage a 15 metre tall human-shaped figure, called 'Ésser del Millenni' (the Millennium Being). This year, the celebration will be repeated, set it as a tradition. As at Christmas, plenty of cava will wash down 2014!
The 31st of December is also "the man of the noses" (L'home dels nassos). He has as many noses as days has the year (children expect a man with 365 noses, but since it is the 31st of December, everybody is "the man of noses"). (It can also be used for the 1st of January, referring to the number of the days thus far).
1st of January: A family lunch to kick off the new year
After the big New Year's celebrations of the night before, the first day of the year is spent at a family lunch. For those who were up all night partying, this is not the most looked forward to event of the year. It is however, especially fun for those family members who are feeling fresh and up for teasing teenagers. Who all of a sudden, are turning down wine for the first time!
5th of January: The Three Kings come to town
During the bleak first few days of January, many places the UK included have a post-apocalyptic week of recovering from the damage Christmas and New Years' celebrations has done to livers, waistlines and wallets. In Catalonia, people prepare for the biggest celebration of the season! The 5th of January is the 'Nit de Reis' or 'Night of the Kings' and marks the eve of the Epiphany, the Christian holiday celebrating the Wise Men bringing gifts to Jesus. Here in Catalonia, in the last weeks of December, children write, not to Santa, but to the Three Kings, with their present wishes for the year and promises of good behaviour past and future. On the night, children usually leave out their shoes ready to receive the Kings' presents. In thanks, they leave out a glass of milk or liquor for the thirsty Kings, and water for their camels.
They hope that on the night of the 5th of January, the Three Kings will come into the towns and cities, with an entourage of pages, donkeys, camels and chariots, and leave presents and sweets over balconies to homes throughout. This is celebrated across Catalonia with big parades of people dressed up as the biblical figures in colourful processions. Furthermore, the Three Kings are officially welcomed by mayors, who hold a small ceremony in their honour.
6th of January: Presents and El Tortell de Reis
After a morning of presents (or coal for the wicked), with some kids touring around homes of relatives to pick up their presents, the 6th is the traditional large family lunch. Dessert is 'El Tortell de Reis', a ring-shaped brioche cake covered with glazed fruit, and filled with marzipan or cream. For the luckiest at the lunch, there will also be a small figure of a king in his slice, making them crowned monarch for the day. While he who finds a dried bean lurking in his portion, is said to have good luck, but they may find this hard to believe as it also means they have the 'fortune' of paying for the cake or do a small performance for the family.
Don't forget your skates and lottery ticket!
Last year, Catalonia started to host its own Christmas lottery, which was drawn on the morning of 31st of December. This year, it will take place once again. It is hoped this will increase public revenue in order to fund more children's care programmes. Last year, this lottery brought in €40 million to pay for public programmes.
Another festive event on offer is the Christmas Ice Skating Rink, which is temporarily erected in Barcelona's main square Plaça Catalunya over the holiday season. The largest of its kind in Europe, it is twice the size of New York's Rockefeller rink and will be open until January 8th.