Gorillaz, Nick Cave, Ferran Palau, The Creator on third day of Primavera Sound festival
Headliners took to the stage with no more queues despite complaints on first day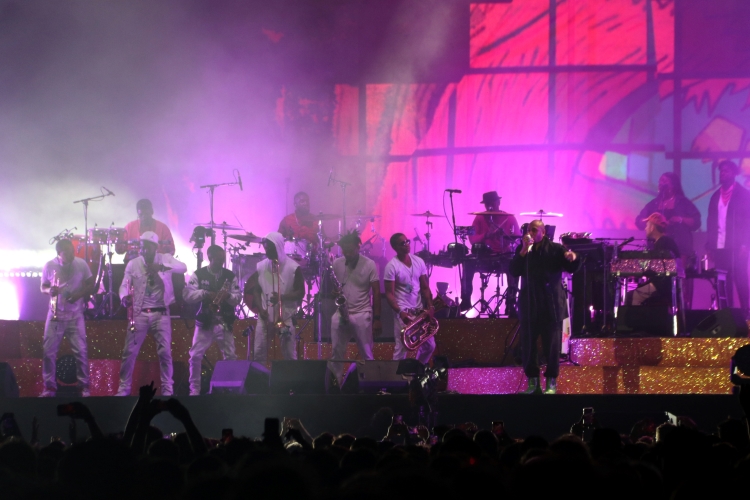 Amended version with the correct name of Tyler, The Creator
The Primavera Sound music festival in Barcelona has left aside all queues and bottlenecks reported during the first day of the event. The music has now taken over all possible complaints, with the third day marked with performances from Gorillaz, Nick Cave, Ferran Palau, and The Creator.
The first artist to perform on Saturday night was Catalan musician Ferran Palau, who started his gig at 6pm in the Parc del Fòrum venue. He was even the main singer on one of the big stages of the festival, the Estrella Damm which saw Beck Hansen perform on Friday night.
Palau proved his expertise, after celebrating his tenth anniversary as a solo artist, with romantic pop music.
But the night did not disappoint for the thousands of attendees on the third day of the two-weekend festival.
The British band Gorillaz was one of the most awaited concerts with their songs following electro-pop, alternative rock, and hip hop genres.
Damon Albarn, the leader of the group, has been one of the most acclaimed artists during the night, while the team sang some of their hits such as 'Feel Good Inc.' but also 'Rhinestone eyes' or 'On Melancholy hill.'
Like rhinestones from the sky ✨ Gorillaz - Primavera Sound, Barcelona 🇪🇸 (video by laotredan) pic.twitter.com/c2ANHalJGC

— Damon Albarn Unofficial (@DamonUnofficial) June 5, 2022
During the show, the group projected animated images of the virtual group. Gorillaz had already acted in Barcelona in 2018, at the Sónar music festival.
Their performance was one of the most attended on Saturday night, and early Sunday morning, however, not the only one.
Nick Cave & The Bad Seeds performed at the Primavera Sound music festival one year after releasing their latest album. The artists had already come to the Catalan capital four years ago, and like then, they performed some of the greatest hits they have: 'Red right hand,' 'O Children,' 'Into my arms,' or 'Bright horses.'
Cave sang in Barcelona less than a year since his son passed away. During the concert, he played the piano while singing to his two late children, "probably they are here," he said as Catalan broadcaster TV3 journalist, Ismael Martín, tweeted.
#NickCave, animal escènic únic, torna a oficiar un dels seus concerts ritual. I passa de l'assalvatjament a fer emmudir tothom com no havíem vist abans al #PrimaveraSound2022.
Sol, al piano, ha cantat als seus 2 fills morts: "potser són aquí". Emoció i llàgrimes entre el públic. pic.twitter.com/LmMwHH69fm

— Ismael Martín (@ismartin_amoros) June 4, 2022
The rap singer Tyler, or The Creator, was the one in charge of closing the night with hits from his most popular album 'Igor' or the lately released, 'Call me if you get lost.'