Primavera Sound 2022: two weekends and over 400 artists
Barcelona's biggest music festival had hoped to celebrate its 20th anniversary in 2020 but called the edition off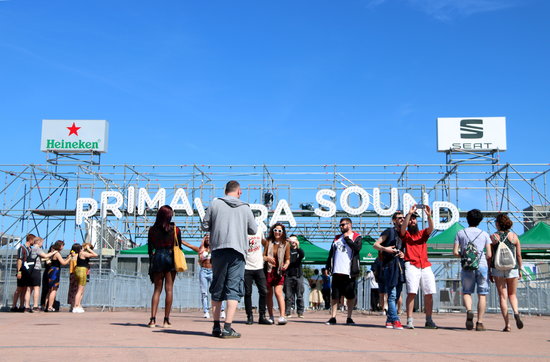 Primavera Sound will return in 2022 bigger than ever, as over 400 artists will reportedly perform over the course of two weekends.
The first two weeks of June, from 2-5 and 9-12, are expected to see the return of Barcelona's biggest music festival.
The news was first announced by Reuters, and sources from the festival avoided confirming or denying the reports when asked by the Catalan News Agency.
It's expected that both weekends of the festival will see major headliners perform.
Primavera Sound had planned on celebrating its 20th anniversary in 2020 but those plans were scuppered by the pandemic, while the 2021 edition was also called off largely due to the uncertainties surrounding the evolution of the health crisis and international mobility.
This year's festival was due to take place from June 2-6 with headline acts announced such as Tame Impala, The Strokes, Tyler, The Creator, FKA twigs, and Bikini Kill.
Concert experiments
Catalonia has seen various concerts over the past few months experimenting with mechanisms of allowing attendees at shows.
Last October, Primavera Sound, among others, organized a gig with 1,000 people in attendance in Sala Apolo, a venue that also usually hosts many side events in parallel with the normal festival.
The aim was to investigate how to guarantee a safe environment for indoor events during the pandemic, as well as the effectiveness of rapid Covid-19 tests as a screening strategy.
One of project leaders, Boris Revollo, an infectious disease specialist at the Can Ruti hospital, outlined the conditions for entry to the venue.
"People will have to respect the current measures such as wearing face masks and washing their hands, but they will be able to order a drink. We will have to exclude anyone showing coronavirus symptoms and all gig-goers will have to test negative for Covid-19," Revollo said.
More recently, 5,000 joyous fans enjoyed a Love of Lesbian concert with no social distancing in Barcelona's Palau Sant Jordi. Organizers recently announced that there was no evidence of transmission found at the event.
An oddity in times of Covid, those present were not required to sit down or to remain socially distanced within their designated section, but needed a negative antigen test carried out on the day of the concert as well as to wear FFP2 masks provided by the organizers, Festivals per la Cultura Segura and Hospital Germans Trias i Pujol.
The animated gig-goers were asked to keep their masks on for the duration of the concert except for when drinking.
"This is one of the most exciting nights of my life," lead singer Santi Balmes told a roaring crowd after they finished playing the first song. "The culture world is watching us and sending us messages of encouragement."