Barcelona mayor casts doubt on summer festivals in post-coronavirus 'transition phase'
Ada Colau says major events gathering thousands will be last to be approved to take place after crisis passes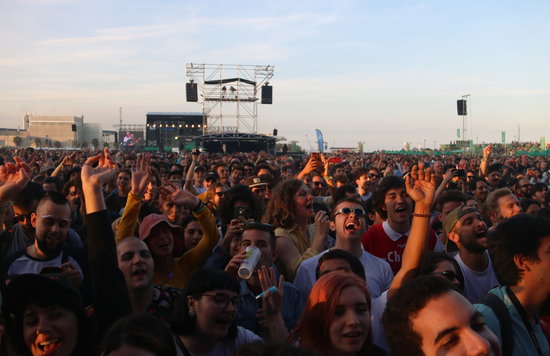 The mayor of Barcelona, ​​Ada Colau, said on Friday that major events which would gather thousands of people "will surely be the last things to be authorized" once the covid-19 coronavirus crisis subsides.
Colau's words cast doubt on the possibility of summer festivals such as Primavera Sound, Crüilla, and Sónar, going ahead, as well as cultural festivities like La Mercè.
Speaking to Catalan radio station Rac1, Colau said they are in "permanent" contact with Primavera Sound, which has already been rescheduled for late August.
"Hopefully it can take place at the end of the summer, just like the rest of the festivals," she said, but events with large concentrations of people would "be the most difficult" to authorize.
"The last sign of normality will be when we can do massive events like these," she explained.
In fact, Colau is convinced that there will be a "long transition phase" between total confinement and the resumption of day-to-day life. "It will be months," she claimed.
A couple of weeks later, government spokesperson Meritxell Budó also suggested the summer festivals would not be able to take place.
"Regarding summer music festivals, unfortunately at this point it seems unlikely that these type of events will be able to be held," Budó explained in one of the Catalan government's daily coronavirus press conferences.
Letting children leave the house
For this reason, she argues that during this transitional phase, once the peak of the crisis passes, children should be able to leave home "at least for a while."
The mayor believes that children are making an "extraordinary effort" and after a few days of being closed they begin to have "attacks of sadness, sleep disturbance or anxiety", among others.
For this reason, she has publicly requested that at the beginning of the transition phase children be "the first to be thought of." She also noted that many children live in small houses, without balconies or terraces.
Colau also thinks it would be "certain that some sort of limited capacity would be placed" on busy spaces, such as public transport, during the transition phase.