Number of Covid patients in Catalan ICUs halves in a month
Over 2.3 million vaccines administered since December 21 while 1.2 million residents got virus over same period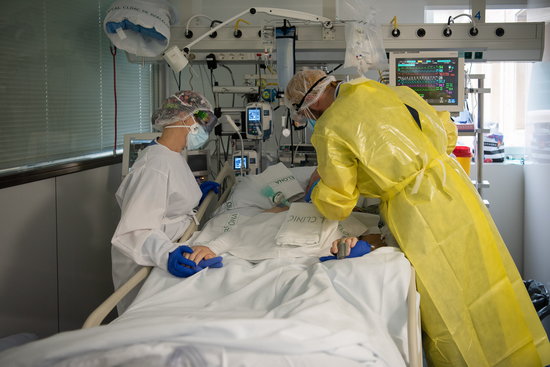 When the Omicron variant reached Catalonia in early December 2021, health centers already had a high number of Covid patients both hospitalized and in ICUs. The peak of people admitted to intensive care units was on January 17, 2022— a figure that halved around a month later: 268 people as of February 20.
Daily data reported by Catalan health authorities (CatSalut) show a significant drop in the number of hospitalizations in less than a month. Although the number of ICU patients peaked on January 17, hospitalization figures kept increasing until January 30, when records show 3,042 people were admitted. As of February 20, the number has dropped to 1,844 people.
Catalan health authorities announced earlier in February that ICU metrics would change and they would modify the way to count ICU patients. While these figures are not available on dadescovid.cat, doctors have been differentiating between patients that have Covid-19 and those who are being treated because of the virus.
"People who are admitted to an ICU because they have a car accident and then test positive for Covid-19 are not the same as those who are hospitalized because they have a coronavirus-related respiratory disease," Gemma Craywinckel, the director of the Catalan health service, said in a press conference at the time.
Therefore, "we could see a small decrease in ICU patient numbers in Catalonia," Craywinckel said.
Twice as many vaccines as Covid-19 cases
The sixth wave of coronavirus in Catalonia has drastically changed over the last two months. On December 21, 2021 there had been 1,146,086 Covid-19 cases since the pandemic began. Two months later, on February 20, the number had increased to 2,374,385. That is, 1,228,299 cases in 60 days.
The arrival of the Omicron variant and the Christmas season's social and family gatherings could have exacerbated transmissions.
Despite skyrocketing case numbers and restrictions in place during the festivities, Catalan residents kept on getting vaccinated over these two months, when up to 2,366,678 Covid-19 vaccines were administered.
Out of these, 262,311 were first doses, 353,251 were second doses, and 1,641,700 were third and booster shots.