Face mask mandate to be lifted up to a month after measure eased in schools, says health minister
Authorities are reconsidering decision to maintain quarantines in special education centers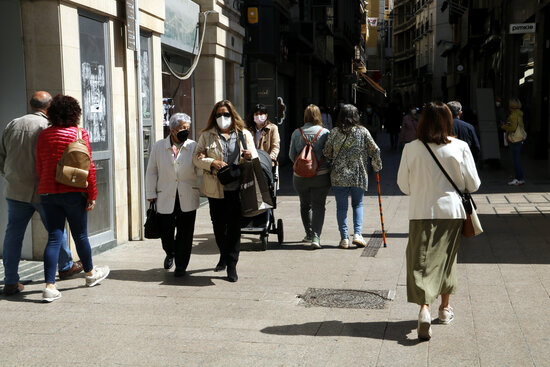 The face mask mandate for the general population will be lifted three weeks to a month after it eased in schools, Catalan health minister Josep Maria Argimon told La Xarxa news outlet on Monday.
Masks must be worn in indoor spaces open to the public, including schools, by everyone 6 and older anywhere in Spain. Outdoors they are only required when social distancing is not possible.
The health minister said he thought all other regions could be "persuaded" to back this strategy to ease the restriction.
He did, however, say that it would still be advisable to wear masks on public transport and for people who are deemed to be at-risk to keep them on too.
Argimon stated on Friday that he would defend gradually easing the measure in schools in a meeting that is set to take place this week with Spanish regional health authorities. "What we're saying is let's lift mask mandates gradually. And where should we begin to do this? With young children in schools," he said.
Quarantines for students
As of last Wednesday, students who are close contacts of people with Covid no longer have to quarantine and parents and guardians of those who stay home because they have the virus do not have to inform the school why they are not in class.
This measure does not yet apply to special education centers, who criticized the move to exclude them by saying it made them "invisible."
Dincat, an association that defends the rights of people with mental disabilities and represents 57 special education schools, blasted the government for "stigmatizing" students.
On Monday the health minister said authorities were looking into possibly modifying this requirement in special education centers too.