Health authorities look to schools for first post-pandemic normality steps
Officials want to remove general quarantine measures this month and hope to let children remove masks in classes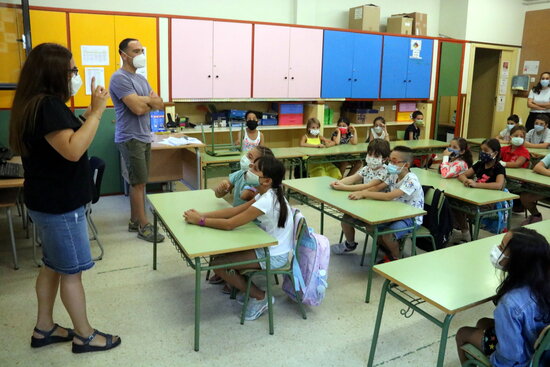 Catalan health authorities are looking toward the post-pandemic future and have pinpointed two areas of school life to begin this process.
Health minister Josep Maria Argimon told Catalan public broadcaster TV3 on Friday morning that he would like to remove general quarantines in school settings as early as this month.
Argimon suggested the week beginning February 21 could be the date to bring in this new regulation.
The change in protocol would mean that any child who feels well and has no symptoms can go to class, but any pupil that feels unwell or shows signs of Covid-19 should stay at home.
However, the rule obliging a class to isolate if any number of students test positive will be removed.
In January, the regulation surrounding quarantines was altered to say that children will no longer have to quarantine if fewer than five of their classmates have Covid-19. If five or more classmates test positive within a week, only those who are not immunized – that is, those who are not vaccinated or have not had Covid in the past three months – will have to quarantine.
Previously, all students to whom the vaccine was not yet available were considered close contacts of classmates who tested positive for the virus and were sent home to self-isolate.
Face masks
Officials also hope to allow children to remove face masks in classes by the end of this trimester, that is to say, before the end of March.
Both are measures that would eventually be implemented in general life, but health authorities want to evaluate their progression in school settings first.
Secretary of Public Health Carmen Cabezas said that schools are "the first place where it makes sense to remove [masks]."
For adults, health authorities agree that it will be necessary to maintain the indoor mandate throughout the winter, and then afterwards the situation can be monitored.
Cabezas stressed that we're currently in a different era of the pandemic and health officials therefore argue that the virus must be addressed differently, not only in schools but also in general.
From Thursday, February 10, children have been allowed to enjoy their school breaks in playgrounds without face masks.
Reinforcement of disease surveillance
The health department has also confirmed that a strengthened surveillance system for diseases will begin on April 1.
Cabezas explained that a system is being set up, not only for Covid, but also for monitoring other diseases such as the flu and other respiratory viruses better. This will allow officials to track any new variants of the coronavirus and be prepared in that case.
The Secretary of Public Health also pointed out that the challenge now is to make the surveillance system "structural" ahead of possible future waves.
Argimon reiterated that without extraordinary funds there will be "many, many problems" in public health.