Catalans split over lifting face mask outdoors mandate on first day
Children not obliged to wear face masks in school playground from Thursday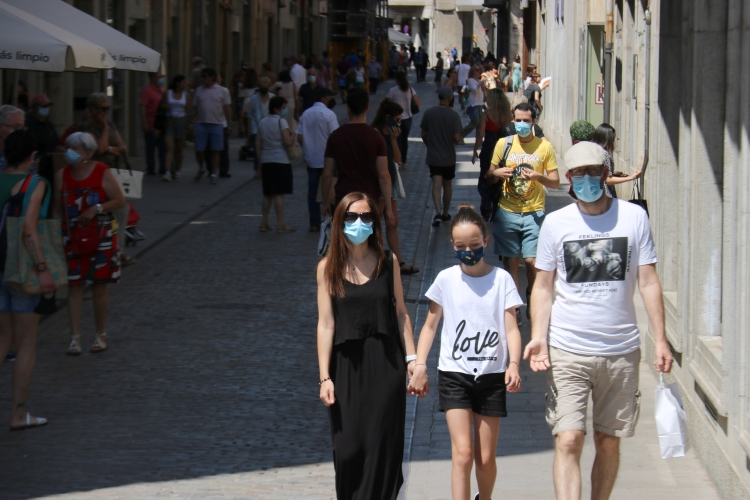 Wearing a face mask outdoors is no longer compulsory in Spain from Thursday. But walking around the streets you still see a lot of people wearing masks. "Nothing changes today, its the same," Blai, a passerby told Catalan News.
He is still wearing a mask despite respecting social distancing and the lifting of the mandate. Wearing masks at all times outdoors has been compulsory in Spain, and therefore Catalonia, since December 24, 2021 when the country was facing a spike of new cases due to the Omicron variant.
"I'm lucky that I am at home a lot and then I don't have to wear it but I think people having to wear it all the time is criminal," a resident said.
The mandate was extended earlier in February after a vote in Congress but days later, Spanish health minister, Carolina Darias, announced the end of the measure.
Some Barcelona residents asked by Catalan News were split over wearing a face mask outdoors or not on the first day of the lifting of the restrictions. Some still wear it to protect them, and some have not been wearing one since it was made compulsory.
"I did not wear" the face mask outdoors, Júlia recognized to Catalan News. She only wears a mask "when I am in enclosed spaces, but when I am out in the open I never wear it."
When asking one of the residents, she realized she was wearing the mask so she decided to take it out during the interview.
"I just left the doctor, and look I'll take it off. I tend to not wear it. Especially because I live in Castelldefels, which is a very open place and the truth is that it's humiliating," she said.
Despite the divergence in opinions, all those asked by Catalan News confirm that indoor wearing should remain compulsory. On February 4, Catalan health minister Josep Maria Argimon shared the idea.
"We should continue wearing face masks indoors, at least this winter. We'll see in spring," Argimon said at the time.
"Never in the street, because I don't like to... it's annoying," Josep said, adding "I wear it inside and on public transport, of course."
School playgrounds, without a face mask
Residents are not the only ones showing their whole faces to everyone from Thursday. In Catalonia, children are allowed to take off their masks when they are playing at the school playground.
Removing the restriction was long-awaited in order to improve young children's "learning, enjoyment, and emotional health," government spokesperson Patricia Plaja said on Tuesday.
The restriction only affects children over the age of 6 and outdoors, as inside the class, they are still required to wear one.
The measure has been in place since the beginning of the 2021-22 school year, despite it was not required on the streets when not crowded.
As the restriction is lifted, grown-ups are still wearing face masks outdoors just to protect themselves and their grandchildren.
"We have grandchildren that we are picking up from school after one o'clock and they'll be at our house for lunch and we'll also wear the mask because there are more problems if they don't wear the mask at school," Satur told Catalan News.
Nightlife sector returns
The last business sector to open after the Covid-19 restrictions will open its doors on Thursday midnight into Friday.
Nightlife businesses will be allowed to open after being closed for over one month and a half since restrictions came into effect in Catalonia on December 24, 2021.
In this case, wearing a face mask indoors will be mandatory but using a Covid-19 certificate to enter the buildings will not be required.