Catalonia to vaccinate 50 to 59-year-olds from Monday
Public health chief Josep Maria Argimon says 5 million people will have received at least one dose by July 15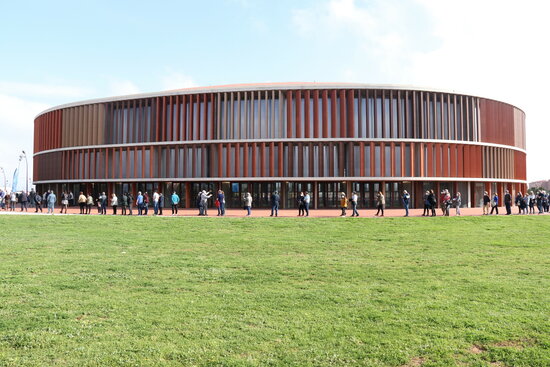 Catalonia is to begin focusing its Covid-19 vaccination program on people in their fifties from Monday, May 10, public health chief Josep Maria Argimon explained at a press conference on Tuesday.
"Vaccination for the 50 to 59 age group will start from May 10 to July."
Some 4.5% of that age group, born from 1962 to 1971, have had already one dose, and 2.3% are fully immunized, but they are individuals with certain specific diseases.
Argimon also explained that from May 10, "we expect to receive 3 million doses of Pfizer," adding that "by July 15, 5 million people will have received at least one dose."
Speaking at the same press conference, deputy head of health promotion, Carmen Cabezas, explained that "the number of vaccines we are receiving now is much higher than in the first months," of the vaccine rollout, "making things much easier."
"11.1 percent of the population has already completed the full vaccination," she added.
One quarter have received first dose
In fact, a quarter of Catalan residents have already received the first dose of the Covid-19 vaccine.
As of May 3, 2021, 1,927,915 residents have been given the first dose of the vaccine, 25.22% of the total population. Out of those, 825,394 have also had the second dose (10.69% of the total population).
870,043 residents are considered to be fully immunized (11.27%). Those under 65 who have already had the virus are only required to receive the first dose, and others have been administered a single-dose jab. Therefore, the percentage of people who have had two doses and the percentage of those fully immunized do not match.
The rollout picked up speed from late March and during April, and it is expected to speed up even more throughout May, since the doses expected to be delivered in May will be "almost double" the number of vaccines that arrived in Catalonia in April, according to the health minister, Alba Vergés.
In order to maintain the increased pace in the rollout, the government opened new mass vaccination sites in places such as Girona, Tarragona and Barcelona, the largest one at Fira Barcelona exhibition center, with the capacity to distribute 120,000 doses per week.
Vaccination of 40-49-year-olds to begin in June
June is expected is to the "most intense" month for Covid-19 vaccinations, during which 40- to 49-year-olds will begin to receive their jabs, assuming doses arrive on schedule.
That was the scenario laid out by health minister Alba Vergés in a radio interview with Rac1 on Wednesday, where she described the recent epidemiological data as "hopeful".
Vergés said that lifting the curfew was therefore justified, but called on the general public to continue to act sensibly, reminding them that the six-person limit on gatherings would remain in place.
The acting health minister also revealed that talks were ongoing over the reopening of nightlife and a pilot test with scientific backing is to be carried out in the coastal town of Sitges.
She reiterated her hopes that the decision as to which vaccine is given to people under 60 who have already received the first AstraZeneca dose will be "as consistent as possible" with what the European Agency Medicine says.
Vergés also outlined that the Catalan health authorities will not have the power to space out the second dose of vaccines as they would like to, even after the state of alarm ends on May 9.