A quarter of Catalans have at least one dose of Covid-19 vaccine
10% now fully immunized as rollout targets 60 to 69 and 70 to 79 age groups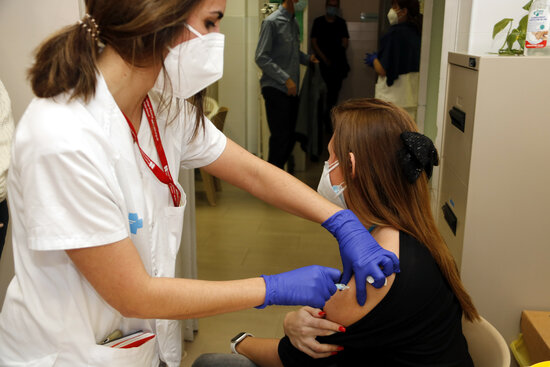 A quarter of Catalans have already received the first dose of the Covid-19 vaccine, and over 10% are fully vaccinated.
As of May 3, 2021, 1,927,915 residents have been given the first dose of the vaccine, 25.22% of the total population. Out of those, 825,394 have also had the second dose (10.69% of the total population).
870,043 residents are considered to be fully immunized (11.27%). Those under 65 who have already had the virus are only required to receive the first dose, and others have been administered a single-dose jab. Therefore, the percentage of people who have had two doses and the percentage of those fully immunized do not match.
The rollout picked up speed from late March and during April, and it is expected to speed up even more throughout May, since the doses expected to be delivered in May will be "almost double" the number of vaccines that arrived in Catalonia in April, according to the health minister, Alba Vergés.
In order to maintain the increased pace in the rollout, the government opened new mass vaccination sites in places such as Girona, Tarragona and Barcelona, the largest one at Fira Barcelona exhibition center, with the capacity to distribute 120,000 doses per week.
At the moment, the vaccinations are targeted at those aged between 60 and 69, and those between 70 and 79, but the focus is expected to be extended to those between 50 and 59 this month – indeed, 4.5% of those born from 1962 to 1971 have had already one dose, and 2.3% are fully immunized, but they are individuals with certain specific diseases, confirmed health authorities.
Fira Barcelona is just one of 500 mass vaccination sites planned for Catalonia, which health officials hope will give the country the capacity to administer 500,000 doses per week.
Priority groups
Catalonia hopes to have 70% of the population vaccinated by the end of the summer.
This figure has already been reached in some priority groups: an overwhelming majority of care home residents (93.5%) are already fully vaccinated, as are 80% of primary care and hospital workers and 81.9% of very dependent people.
Among those over 80, 91.1% have had at least one dose and 84.4% have received both.
As for those between 70 and 79, 70.3% have received the first jab, but only 19.8% are fully vaccinated. For those between 66 and 69 – who are getting the AstraZeneca jab – the figures are 58% and 4.3% respectively.
Yet, a greater number of essential workers (69.3%) and people between 60 and 65 (60.8%) have also been administered the first dose, because these people began to receive the AstraZeneca vaccine some weeks before.
Percentage of population vaccinated
Number of people given first and second dose
New vaccinations per day (both 1st & 2nd dose)
Covid-19 vaccination progress in top priority groups