Vaccinations for 50-59 year olds to begin this month
Vergés expects 'almost double' the amount of jabs to arrive in May compared to April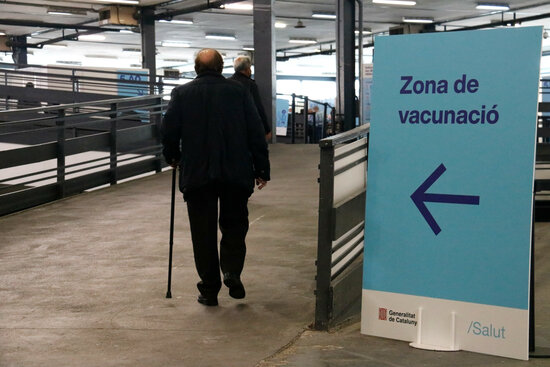 Meanwhile, Catalonia's minister for health, Alba Vergés, stated on Saturday that vaccinations against Covid-19 will begin for those aged between 50-59 this month "for sure."
Speaking on Catalunya Ràdio, Vergés said that she was confident that by May 9, the date the state of the alarm will end, 80% of people between the ages of 60 and 79 would be vaccinated and the campaign can be expanded to other age groups.
The minister added that later, those between 40 and 49 years of age would be invited to book their vaccines but that below this age, Catalonia could do away with age ranges and call directly on all people above 16 or 18 years of age to book their jab.
The ERC politician also reiterated 70% of the population could be immunized by July if the European Union delivers on its vaccine commitments.
"Almost double" the number of vaccines that arrived in Catalonia in April are expected to be delivered in May, according to Vergés.
Congress hall vaccination centre
The vaccination strategy has advanced to the point that Catalonia has recently opened up a mass vaccination centre in the Fira de Barcelona congress hall.
The site had 2,100 appointments scheduled for Sunday, but despite this figure, there were no queues seen, as everyone appointments were spaced throughout the day.
Those aged between 70-79 received their first doses of the Pfizer vaccine from primary care workers on Sunday.
"It's an agile system," Lourdes Carrés, the nurse in charge of coordinating the centre, told the Catalan News Agency.
Manel Cuesta, Daniel Lipkin, and Maria Cambras, three people vaccinated in the first phase of appointments in the morning, all agree.
Lourdes Carrés admits that CAPs - primary care centres located in neighbourhoods and towns throughout the country - are "closer and more accessible" for people, especially for the elderly or vulnerable, but she still highlights the usefulness of mass vaccination spaces such as the Barcelona congress hall.
She says the space is "different, for the capacity and size, but in a time of pandemic it's great to have it for when it's needed and we get a lot of vaccines."
The centre allows up to sixty vaccination points at different levels of the building if it is at full capacity. At the moment, around twenty are in operation.
The Fira opened up last Monday to administer 1,000 AstraZeneca vaccines to people aged between 60 and 69.
The Fira de Barcelona is just one of 500 mass vaccination sites planned for Catalonia, which health officials hope will give the country the capacity to administer 500,000 doses per week. A maximum of 120,000 per week will be possible in the congress hall.