Last remaining formerly jailed independence leaders take appeals to ECHR
Oriol Junqueras, Raül Romeva, and Dolors Bassa want sedition sentences overturned in Strasbourg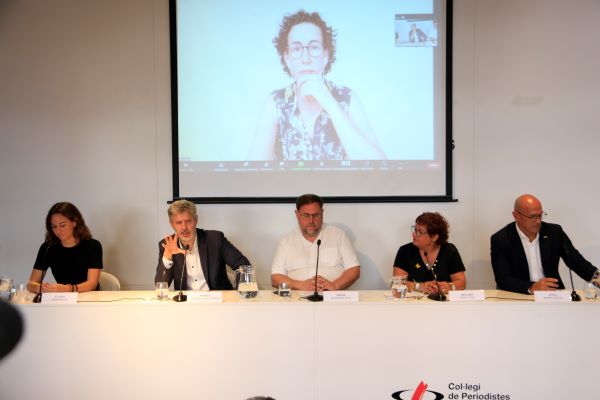 All independence leaders who had been sentenced and jailed for their roles in the 2017 independence push have now taken appeals to the European Court of Human Rights in Strasbourg.
On Wednesday, the last three remaining formerly jailed politicians filed their appeals against the October 2019 sentencing that saw them be given jail terms of between 12 and 13 years. In June 2021, they were given pardons by the Spanish government, allowing them to leave their cells.
Oriol Junqueras, Raül Romeva, and Dolors Bassa were all convicted of sedition and misuse of public funds, in connection with October 1, 2017 independence referendum deemed illegal by Spain.
All three denounce Spain for violating human rights such as the right to a fair trial, freedom of expression and assembly, as well as various political rights. In a press conference on Wednesday, Junqueras said that they are confident that the possible ruling of the ECHR will benefit other people involved in legal cases relating with the independence push.
Junqueras, the vice president of Catalonia at the time of the independence referendum, warned that the case against him and his colleagues is "a collective case against independence" that can be repeated against "all those who question the status quo" in Spain.
These appeals from Junqueras, Romeva, and Bassa are in addition to those already filed by Jordi Sànchez, Jordi Cuixart, Josep Rull, Jordi Turull, Carme Forcadell, and Quim Forn. Strasbourg has now received appeals from all nine leaders convicted of sedition for the 2017 independence push.
Romeva and Bassa see it as "logical" to unify the appeal into a broader case that includes the three of them and estimate that it could be resolved in two or three years if the ECHR's prioritization policy is applied. "It will be a minimum of two years," lawyer Clara Serra Baiget said.
Spanish courts were at times divided in the decisions on appeals of some of the pardoned independence leaders, but with majorities being returned on all occasions rejecting the attempts to have their sentences overturned.
Three other convicted officials
The other former officials at the time of the independence push that were convicted of disobedience but not sedition have decided not to take their appeals to the European Court of Human Rights.
Ex-ministers Carles Mundó and Meritxell Borràs have chosen not to go to Strasbourg following the advice of their lawyers, while Santi Vila did not even appeal the Supreme Court's ruling to the Constitutional Court.
All three were sentenced to one year and eight months in prison for disobedience.