Josep Rull becomes third jailed pro-independence leader to take case to Europe
Former territory minister, serving decade-long sentence for his role in 2017 referendum, follows footsteps of Jordi Cuixart and Jordi Turull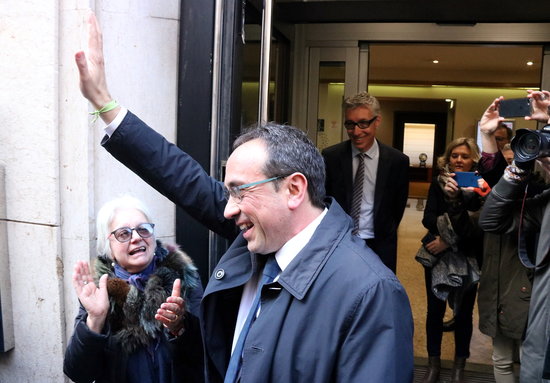 Josep Rull has become the third jailed pro-independence leader to take his case to the European Court of Human Rights.
The man who served as Catalan territory minister during the 2017 referendum is serving a 10.5-year prison sentence on sedition charges for his role in the peak of the confrontation with Spain.
On Friday, he followed the footsteps of Jordi Turull and Jordi Cuixart in placing an appeal before the court in Strasbourg, after the path within the Spanish judiciary system ended when the Constitutional Court rejected his appeal against his sentencing.
The activist-turned-politician Jordi Sànchez is likely to take his case to Europe next week, as Spain's top magistrates have also already rejected his appeal.
Judges in Madrid are still reviewing the convictions of the imprisoned leaders Oriol Junqueras, Carme Forcadell, Raül Romeva, Dolors Bassa and Joaquim Forn.
Josep Rull's case
Rull served as territory minister from January 2016 to October 2017, when he was sacked after Spain suspended Catalonia's self-rule in the wake of the declaration of independence.
He was the only minister who took a picture of himself at work in his office on Monday, October 30, 2017, the first working day after the Catalan executive was dissolved.
In the 2019 trial, he was accused of preventing a ship lodging Spanish police officers ahead of the referendum from docking in the port of Palamós, which was managed by his department.
During the sessions, Rull accused the Constitutional Court, which declared the 2017 referendum illegal, of acting as a political tool in "having been systematically utilized by the Spanish government to suspend all initiatives by the Catalan parliament."
In his closing remarks, he stated: "Self-determination is transcendental. There will always be more people after us. There are not enough prisons to lock up our desire for freedom."