Former Catalan parliament speaker takes sedition case to human rights court
Carme Forcadell cites top Spanish court's "embarrassing" partiality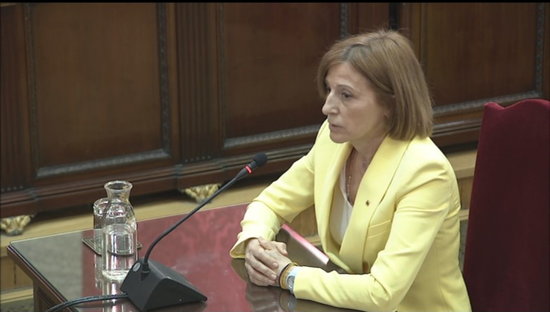 Former Catalan parliament speaker Carme Forcadell, sentenced to 11 and a half years behind bars for her role in the failed 2017 push for independence, has lodged an appeal against her sedition sentence in the European Court of Human Rights in Strasbourg.
As was the case with fellow pro-independence and formerly imprisoned leaders Jordi Sànchez, Jordi Cuixart, Josep Rull, and Jordi Turull, the ex-speaker had challenged the Spanish Supreme Court ruling in Spain's Constitutional Court, where it was upheld, before bringing her appeal to the ECHR.
Forcadell cited her parliamentary immunity, the Constitutional Court and judge Pablo Llarena's "embarrassing" partiality, the Supreme Court's lack of authority to judge her case as well as freedom of association among the reasons for which her sentence should be overturned.
While Oriol Junqueras, Raül Romeva, Quim Form, and Dolors Bassa have also exhausted all of their appeals against their referendum-related convictions in Spain, they are yet to seek justice abroad but are likely to do so soon.
All in all, nine Catalan politicians and activists were sentenced to up to 13 years behind bars for organizing the 2017 independence referendum deemed illegal by Spain but were pardoned - not amnestied - and released just under a year ago in what Spanish PM Pedro Sánchez described as an attempt to foster reconciliation.