Jailed independence leaders rally against Spanish authorities as they re-enter prison
Five political figureheads and activists returned to Lledoners after a court suspended some of their leave privileges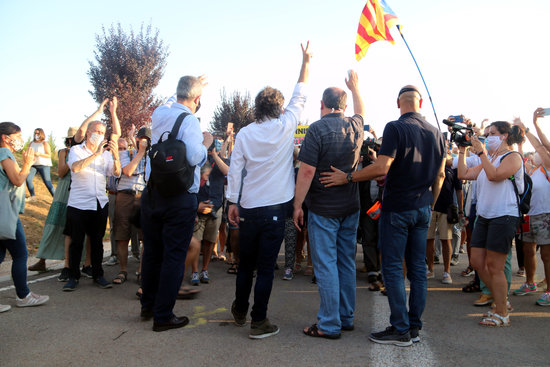 Minutes before re-entering prison after their low categorization was suspended, the jailed pro-independence leaders Oriol Junqueras, Raül Romeva, Quim Forn, Jordi Cuixart, and Jordi Sànchez rallied against Spanish authorities for a lack of dialogue and warned that they will continue to stand up for their freedoms.
The prisoners returned to Lledoners at eight o'clock on Tuesday the evening after a judge suspended their categorization which allowed them to leave jail during the day midweek and on weekends after the public prosecutor requested the measure earlier in the day.
According to the prosecutor, giving them this category creates "a sense of impunity."
From now on, prison authorities will have to study each of their situations on a case by case basis before conceding privileges such as outings.
The lowest prison category, which came into effect for all nine jailed politicians and activists just under two weeks ago.
Barring Sànchez, each of the jailed independence leaders arrived in time to greet and speak to attendees. Resigned, but not surprised because, they say, they expected this news from the first moment.
Now, they will have to be confined to their cell for 14 days as a preventative measure for Covid-19. In Lledoners, they were met by vice-president Pere Aragonès, the president of the Parliament, Roger Torrent, the parliamentary groups of ERC and JxCAT, and hundreds of people.
At the gates of Lledoners, Omnium mounted an improvised stage where each the prisoners were been able to have their say before entering the penitentiary center. Messages of perseverance, but also many harsh ones against the Spanish state that, they say, opts for the path of "revenge, and not dialogue."
Jordi Cuixart was the first to speak and said that they draw strength "from the impotence and lack of dialogue from Spain." He called for an amnesty to end the "repression," and addressed the elderly and the youngest so that they do not give up or "water down" their dreams. "We have every right in the world to disobey, disobey as many unjust laws as are necessary, do not be afraid of imprisonment or repression," he said.
Joaquim Forn assured that from prison they will do "whatever it takes" and that they will continue to persist. Raül Romeva insisted that these gestures will not take away any glimmer of hope and has said that the road to independence will be "long and costly, but irreversible."
ERC President Oriol Junqueras said that the latest actions showed that Spain is afraid. "They know they are not winning at the polls and they can only do so if they use non-democratic tools because, in democracy, the champions are us," he added.
Finally, Jordi Sànchez called the suspension of the third degree "revenge" and criticized the president of the Spanish government, Pedro Sánchez, for a lack of dialogue.
The prisoners entered Lledoners cheered on by hundreds of people who have given them signs of support and warmth at all times.
Condemnation of measure
On Tuesday night President Torra held a last-minute institutional act in which he strongly condemned the suspension of their low prison category conditions and called on the independence movement to "prepare itself better to stop being held captive by an authoritarian state."
The move has also incited a cascade of criticism from other members of Torra's cabinet and beyond.
Speaking at an event on Wednesday, Catalan vice president Pere Aragonès claimed far-right Vox was not behind the move but rather the public prosecutor, adding that "it is the Spanish government that must move towards ending repression." His Esquerra party mate Gabriel Rufián, an MP in Madrid, also called upon the Spanish government to "be braver."
During Wednesday's congressional debate in Madrid, Jaume Asens of En Comú Podem contrasted the news with yesterday's acquittal of several Spanish Civil Guard members for a 2014 incident in which 15 migrants drowned as they attempted to make their way to Europe.
"[On July 28] we also saw the suspension of [five jailed independence leaders'] low prison category conditions. This is not an act of justice, it is an act of vengeance that pushes us away from finding a political solution to the conflict in Catalonia."
Spanish vice president Pablo Iglesias, also of Podemos, Tweeted on Tuesday night that he thought the decision was "bad news" for "dialogue" between the Catalan and Spanish governments and said he suspected many citizens may now "have the feeling that justice is not the same for everyone."
Spanish president says criticism "misplaced"
Meanwhile, Spanish president Pedro Sánchez called the criticism his government has received following the measure "misplaced."
"The Spanish government does not impose or remove sentences, it is the courts that do that."