Public-private partnership launched aiming to build first battery factory in Catalonia
Spanish government, carmakers SEAT and Volkswagen, and electricity firm Iberdrola will bid for European funds to execute project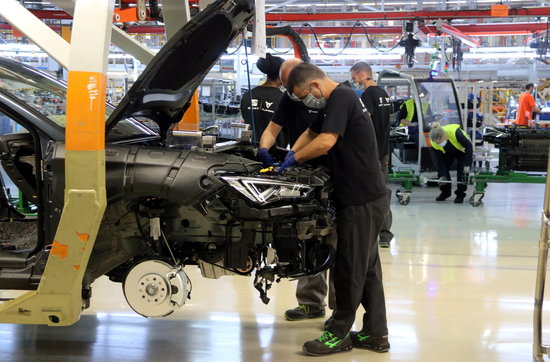 A public-private partnership between carmakers SEAT, Volkswagen, the electricity company Iberdrola and the Spanish government has been launched in a joint effort to build a battery factory and boost the use of electric vehicles.
The plant would be built "near" the town where the SEAT headquarters are located, Martorell, outside Barcelona.
If the project, which will be making a bid for EU Covid-19 funds, is successful, it would be the first factory of its kind in Spain, and therefore also in Catalonia.
The initiative is "open to other partners," Spain's industry minister, Reyes Maroto, said during the announcement of the project on Thursday.
"The project will allow for a number of actions that will ensure that Spain will have the necessary infrastructures, facilities, and mechanisms competitively and autonomously make a complete, connected electric vehicle," she added.
According to Maroto, SEAT has already announced a transition towards the electric vehicle and said that the project will help them "have a battery factory nearby."
The Catalan carmaker, which is part of the Volkswagen Group, is the top firm contributing to Catalonia's GDP.
On Friday, the Spanish king Felipe and president Pedro Sánchez will visit the company headquarters in Martorell.