Innovative Catalan Apps shine at Mobile World Congress' App Planet
The App Planet at the Mobile World Congress is one of the biggest app events in the world, and the Catalan App companies have taken full advantage of the opportunity to showcase their latest products. Not only this, several Catalan App companies have come together to form the group 'Catalunya Apps', in which big and small companies alike have joined in order to survive and compete on the global stage. 'InQBarna' had extraordinary success since last year with their Music based app; they have had 700,000 downloads and Apple named the best music app in 2013. Inqbarna isn't the only large company to commit to 'Catalunya Apps'; Sixtemia, founded 5 years ago, is on board as well.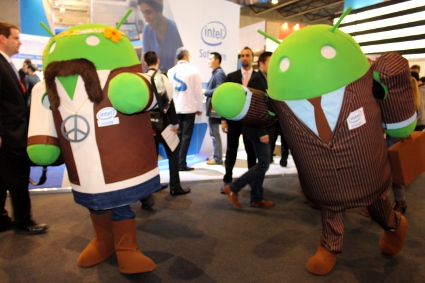 Barcelona (CNA).- The App Planet is an exhibition at the Mobile World Congress for the world's best app developers and companies to release and showcase their latest apps, with over 200 exhibitors present at this year's showcase. At the Catalan stand, a host of innovative and successful app companies were clustered together and showcased some of the best and most impressive apps of the entire 'App Planet'. Against a backdrop of a global capitalist economy, it becomes apparent that the Catalan companies are not just about making money. Through a group called 'Catalonia Apps', now with 40 members, it is clear that far from the big companies trampling on the small ones, many large Catalan app companies have instead decided to join smaller Catalan companies to survive the economic crisis.
'InQBarna'
Nacho Sanchez, CEO of application group 'InQBarna', is perhaps the best example of this compassionate spirit. They have had extraordinary success since last year with their Music based app. He told that "Inqbarna was released at last year's Mobile World Congress, and since then we've had 700,000 downloads, and Apple named us the best music app released last year."
"The App allows users to become a DJ in their own home. They choose the songs and the App matches and mix the songs for them, they don't have to do any work, the App does all the hard stuff. It's a more interactive music experience than apps like Spotify, which we hope sets us apart from other music apps." Not only is this innovative app a huge success, the company are using this Congress to release a new app, called 'Beat'.
'Catalunya Apps'
Sanchez is clearly determined for his own company to be as successful as possible, but his membership of the 'Catalunya Apps' group reveals that he also wants to help as many smaller companies as possible too.
'Catalunya Apps' is a collective group of large and small companies that are pulling together to compete in an increasingly difficult and busy global market. Sanchez described that "Catalunya Apps allows smaller companies and developing companies to be integrated with the larger companies, use our spaces, and share our software. Let's gather together and move in the same space. That's our vision.
Usually bigger companies want to kick the smaller ones out. We don't want to see smaller companies disappear. The bigger players we get the more credibility we have and the more small app developers we can help."
'Sixtemia'
Inqbarna isn't the only large Catalan app company to commit to 'Catalunya Apps'. Sixtemia, founded 5 years ago and now one of the largest working Catalonian app companies is also on board to help ensure the future of smaller Catalan app companies and developers.
Josep Boadas, Director of Sixtemia, told that "our companies aim is to allow small companies and users to create a professional looking app at an affordable price. This helps them to make their own apps that look more professional and the better quality and look of these apps helps them to stand alongside other more well-known apps."
Catalunya Apps: "a galaxy with a lot of small stars"
"In Catalonia, there are a lot of companies, but not all of them can survive on their own. The idea behind Catalunya Apps is to create a group, with a quality brand, to help everyone gain success. We see it like a galaxy with a lot of small stars."
Boadas explained that he was hopeful of a bright future for Catalan app companies, saying "I think apps are growing in general and also in Catalonia, although we have problems to face, particularly the smaller app companies starting up, such as expensive office space and developer costs, I think that together we can be successful."
Letsbasket app
One example of a more newly founded and smaller members of the 'Catalunya Apps' group is Letsbasket app, a very clever and user friendly app which is growing rapidly.
Vanessa Estorach, Director of Letsbasket app, described the app as "a basketball app developed for amateur users. It's really user friendly, so people such as coaches, family and friends of amateur teams, can use the app to gather important statistics from the games."
She highlighted her delight at being a part of the 'Catalunya Apps' group, stating "I'm proud to be a part of Catalunya Apps. We have come from 5 founders to a 40 company strong group … It's great to be part of a wider community, it feels more safe during difficult financial times and we are stronger collectively than we are apart"
On a personal note for her application, she added "We are hoping to get the apps used by more teams, we are always in negotiations to get this application used by more teams and hope to make our app the main one used by all amateur teams in Catalonia."
Soundkik
Despite the prominence of the 'Catalunya Apps' group at the Catalan corner of the App Planet, there is plenty of evidence that success can still be found on your own. Quico Domingo, Founder and CEO of Soundkik, started his app company with no government funding, and is making his way without the protective umbrella of a larger associated group
He explained, "We started one year ago and are now using this Congress to raise more awareness of the app we have developed. Our application is a digital Jukebox, which brings together venues and users. The venue picks all the music and uploads it to a playlist, and the users can choose which song plays next. Not only this, users can dedicate songs to other peoples, their friends and partner's etcetera."
The app is one of the cleverest and most inventive apps on show, and it's potential if its success continues to grow is clearly evident. Domingo added, "we are hoping to eventually allow people to dedicate songs to a person in the venue from their own home. We have some venues using our app in Barcelona, and now we are hoping to get more venues on board. We are hoping to develop a relationship with a bigger company with good relationship with venues to help us grow even further."
Standing Together
The Catalan section of the App planet is a great example that business does not necessarily have to involve stepping over smaller companies in order to gain success. In standing together, the Catalan App companies believe they have a greater chance of long term success and achievement than if standing alone.