House construction starts to grow in Catalonia for the first time in seven years
For the first time in seven years, the number of houses and flats being built in Catalonia has increased. The figures for 2014 show that between 4,300 and 4,500 new properties have appeared on the market after seven years of decline. According to Lluís Marsà, President of the Promoters Association of Barcelona, the housing market is recovering due to the improving economy. Marsà says there is still one big obstacle remaining to consolidate the recovery of the sector: "The lack of bank financing which keeps people from purchasing new housing." While this is a positive development, the housing market has still a long way to go. According to Marsà, "it will probably take 3 or 4 years to fully recover."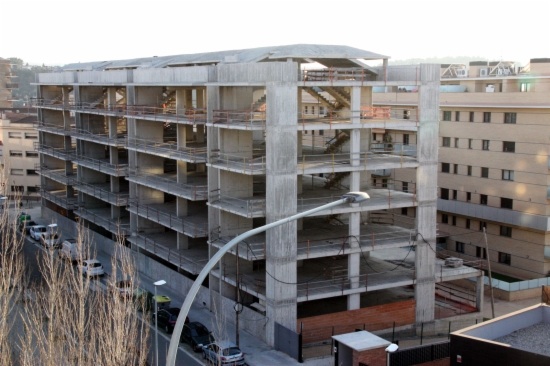 Barcelona (ACN).– Since 2007, the housing construction figures in Catalonia have decreased every year. The figures reached a low of 3,036 new apartments in 2013. After seven years of decline, the figures went up last year. The total number of new apartments in 2014 is estimated at between 4,300 and 4,500 properties. While this is a positive development, the housing market has still a long way to go.
Lluís Marsà, President of the Promoters Association of Barcelona, is optimistic at the positive figures but is also cautious: "It will probably take 3 or 4 years to fully recover. 25,000 new homes a year is a healthy situation, which is when the housing market sector is functioning normally again. There is still a huge difference from the 2006 peak, when the market registered 126,000 new apartments."
Due to the short supply of new buildings, second-hand houses are much more popular. For every new apartment, two second-hand houses are sold. Before the decline, this ratio was one to one.
Marsà thinks that one of the main obstacles is the lack of bank financing. Banks prefer to sell the housing stock of their portfolio and require strict conditions for potential buyers of new homes. Banks often require a savings balance of at least 30% of the purchase price, to avoid any risks.
Fluctuating prices
While housing construction grew in 2014, prices remained low. The average price of an apartment decreased by about 9.3%, from €279,000 in 2013 to just under €254,000 in 2014. Marsà explains this decrease by the tension between supply and demand. Despite the general decrease in prices, some neighbourhoods of Barcelona recorded significant increases in 2014. Prices in Les Corts (34%), Ciutat Vella (27%), Nou Barris (8%) and Sarrià-Sant Gervasi (3.5%) rose, while the districts Sant Martí (14%), Sant Andreu (11%), Horta-Guinardó (5%) and Eixample (3%) recorded decreases in price.
The contrast between price increase and decrease is also noticeable on a larger scale. While housing prices in the town of Sant Celoni (between Barcelona and Girona) dropped more than 23%, the average price of a house in Esplugues de Llobregat (Greater Barcelona) increased 41.5%. It is remarkable that the 'low' average prices in Sant Celoni dropped from €180,000 to €140,000 and the average apartment in Esplugues de Llobregat rose by nearly half its price, from €274,000 to almost €390,000.
Economic indicator
The figures of housing stats are important for economists and are so-called leading economic indicators. Housing stats are a strong economic indicator because construction is one of the first activities to occur when the economy is on the rise. In general, these figures are half a year ahead of the rest of the economy and therefore they have a predictive value of the market trend. Economists use them also to identify the current phase of the business cycle. However, they have many limitations, since they are only focused on one particular sector of the economy. Another weakness concerns the qualitative values: there is little distinction in terms of the sizes and prices of the houses in these stats. In combination with bank financing, housing stats figures also depend on consumer confidence: should the economy be strong and consumer confidence high, more houses will be sold.