Flights from Barcelona El Prat increase by 6.8% for winter season, while Girona shrinks by 20%
The Spanish Airport Authority (AENA) has announced that this coming winter season over 8.4 million seats will be on offer on flights out of Barcelona El Prat Airport, an increase of 6.8% compared to last year. Seats on intercontinental destinations have increased by 13.6% over last year. The number of flight operations (take-offs and landings) is anticipated to be 47,000: an increase of 4.1% to 2013. In contrast, the airport of Girona Costa Brava (northern Catalonia) has announced it will offer 16 routes this winter season, 20% less than last year. Ryanair has implemented the cuts it announced last May and will no longer be connecting Girona to London or Paris. Ryanair and Wizz Air will be the only airlines flying from Girona to Kiev, and only Ten Airwais will operate charter flights to Nador, Morocco. This summer, Girona airport connected passengers to 69 destinations.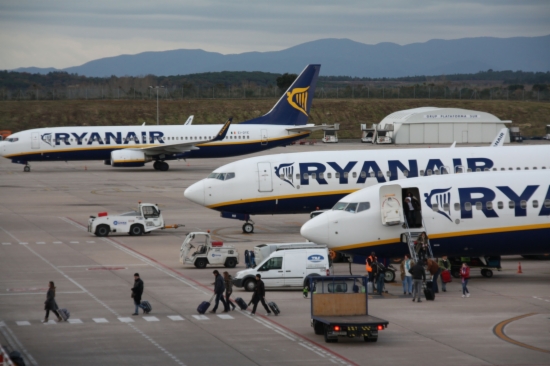 Barcelona (ACN).- Barcelona El Prat Airport has already scheduled 8.4 million outbound seats this winter season, according to the Spanish Airport Authority (AENA). This represents a 6.8% increase from last year. Intercontinental destinations have registered an increase of 13.6%, while European countries that have increased in popularity include Italy, France and the UK. The total number of flight operations to and from Barcelona Airport, is expected to be 47,000, an increase of 4.1% from last year. On the other hand Girona Costa Brava Airport, in north-eastern Catalonia, has announced it will be offering 16 routes during the winter season. This means there will be 20% less on offer compared to last year. This comes after Ryanair, the low-budget Irish airline, implemented the cuts it announced last May. It will no longer be flying to significant airports such as London (neither Stanstead nor Luton) or Paris Beauvais, connections it began with Girona in 2004. Alongside Wizz Air, the Irish company will now be the only airline operating flights to Kiev, and only Ten Airwais will continue charter flights to Nador in Morocco. This summer, Girona Airport connected passengers to a total of 69 destinations.
Surge in flight seats offered from Barcelona Airport
This winter season, which begins on Sunday and runs until March 28, there will be an increase of 13.6% in flight seats from Barcelona Airport to intercontinental destinations. According to the manager of the AENA, seats on offer have increased by 34.7% to Asia, 31.6% to the Middle East and 18.2% to Latin America. As regards the European market, there has been 19.8% more seats offered to Italy, 13.9% to France and 12.4% to the UK.
Ryanair implements drastic cuts from Girona Airport
Following its announcement last May, Ryanair will be cutting routes from Girona Costa Brava to such historic destinations as London, both Stanstead and Luton, and Paris Beauvais, routes that it had connected to this northern Catalonia aiport since 2004. Ryanair will now offer 14 connections with the airport, 25% less than a year ago. The UK will be particularly affected by the cuts, as they add to last winter's, when the airline stopped flying from Bristol and Manchester. Outside of the UK, other destinations that have been dropped by Ryanair are Cologne in Germany, Maastricht in the Netherlands, and Poznan in Poland.
In contrast, Ryanair will connect three new routes to Girona this winter: Karlsruhe/Baden-Baden (Germany), Bratislava (Slovakia) and Glasgow (Scotland).
In addition to these three, the remaining eleven routes Ryanair will maintain from Girona Airport this winter, include two to Morocco (Rabat and Marrakech), four to Italy (Alghero, Pescara, Pisa and Cagliari) three to Germany (Bremen, Frankfurt and Niederrrhein) and to Eindhoven (Netherlands) and Wroclaw (Poland).
AENA has specified that this data is related to requests from companies, but that changes may occur in the coming weeks.