€2.1bn losses for Barcelona hotels since start of pandemic
Sector calls for vaccination program to speed up after missing out on 95% of usual turnover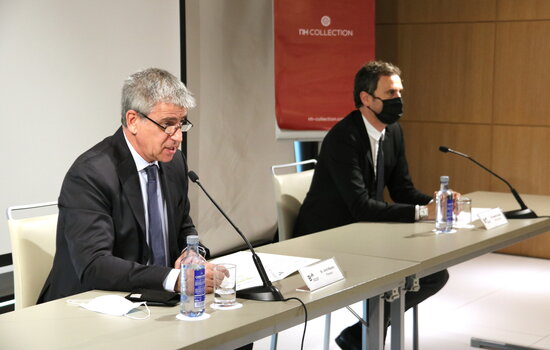 Barcelona's hotel sector has missed out on €2.1bn of income since the beginning of the pandemic, equivalent to 95% of the usual turnover.
Currently only 30% of hotels in the Catalan capital are open, with reductions in price of between 50% and 60%, and 90% of workers in the sector continue to be affected by temporary redundancy schemes (ERTOs).
"We make a living mainly from international tourists that cannot come, so we cannot work," lamented the president of the Barcelona Hotels Association, Jordi Mestre.
Bookings remain low for the summer and for June's Mobile World Congress (MWC), in a normal year is the world's biggest mobile technology trade fair.
Vaccines and trade fairs
The Hotel Association has highlighted the importance of "key" factors in order to improve the outlook for the sector. These include speeding up the vaccination program, advertising Barcelona as a safe destination and working to bring back the fairs and conferences that the city is known for.
Mestre supports the expansion of the Fira de Barcelona, an exhibition center that he says is "essential" for the hotel sector's recovery. He also favors the extension of Barcelona Airport to enable "a very significant improvement" in flight connections.
Summer "not looking good"
The Hotel Association describes the current situation as "dramatic," with only 131 hotels open in Barcelona, 30% of the total number. Occupancy levels are "very low," between 10% and 15%.
Before the pandemic, there would normally be around 60,000 people staying overnight in the Catalan capital at the end of April. This year, the figure stands at about 2,000.
Mestre says that the first five months of this year have been "lost" and that the summer "is not looking good at all."
"A summer like last year would be a disaster with dire consequences for the sector," he warned.
The Hotel Association predicts that the number of hotels open could reach up to 50% during the summer, but even the few bookings that are being made are not guaranteed, due to the flexibility of cancellations.
A key date in the diary for hotels in the city will be the Mobile World Congress, scheduled for June 28 to July 1. For now, the Hotel Guild doesn't know the number of bookings. It plans to ask its members from the first week of June, "much less in advance" than usual.
Last year, during the most severe months of the pandemic, some of Barcelona's hotels were converted for use as makeshift hospitals.