1,000 gig-goers at Barcelona's Apolo to take part in rapid test experiment
Aim is to investigate how events in enclosed spaces can go ahead safely during pandemic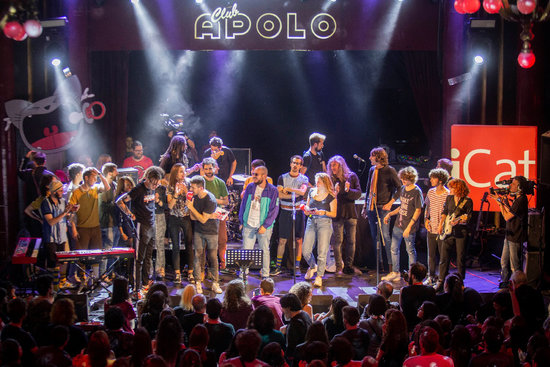 One of Barcelona's best-known music venues is taking part in an experiment investigating how to guarantee a safe environment for indoor events during the pandemic, as well as the effectiveness of rapid Covid-19 tests as a screening strategy.
The Sala Apolo will host a 1,000-strong audience at a concert in October for a study organized in conjunction with Primavera Sound, the Fight AIDS Foundation, and Germans Trias i Pujol Hospital (also known as Can Ruti).
"Everyone will do the tests to see how effective they are and see what the interaction is like in a room with the following conditions: in an enclosed space with people watching a concert, singing and dancing, to see whether or not there is any kind of transmission afterwards," explained Lluís Torrents, head of the Association of Concert Halls of Catalonia (ASACC), on Rac1 radio on Sunday.
"As well as being able to open the venues, they would actually become massive testing points. We always said we wanted to work to be the solution and not the problem," Torrents added.
One of project leaders, Boris Revollo, an infectious disease specialist at Can Ruti, outlined the conditions for entry to the venue.
"People will have to respect the current measures such as wearing face masks and washing their hands, but they will be able to order a drink. We will have to exclude anyone showing coronavirus symptoms and all gig-goers will have to test negative for Covid-19," Revollo said.
He hopes the experiment will help in allowing people to safely attend arts and music events.
"We need to try to get back to normal as quickly as possible. We want to show that by doing a rapid antigen test, a person can attend an event with a large number of people, and thus help to reactivate a part of the economy." he said, adding that they need just over 1,000 people to take part to prove that it is a safe strategy.
"In fact, it would be a first step towards allowing events to be held with a larger number of people," Revollo added, "such as bigger concerts or football matches."
How the testing will work
The date of the gig is still to be determined but the study organizers outlined on Monday how the testing will work. All ticket holders will undergo a rapid antigen test on the day of the concert. Then, before the doors open, half of the attendees will be given a PCR test, which should therefore allow investigators to evaluate the effectiveness of rapid tests as a screening strategy in events with a large number of people.
Eight days after the concert, a second rapid test will be performed on all who attended, and those that were given a PCR test on the day will be given another one. The results of all the tests will be evaluated by investigators and published in due course.