'Stop War' banner censored from Napoli-Barça broadcast
Xavi's Barcelona go from strength to strength registering another convincing victory to qualify for the last 16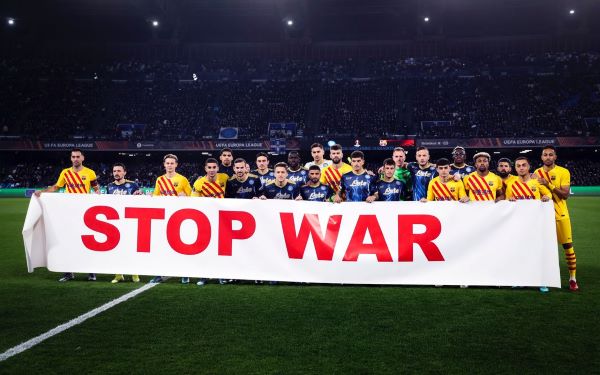 Barcelona are into the last 16 of the Europa League after a convincing 2-4 win away to Napoli that sealed a 3-5 aggregate victory.
However, controversy surrounded proceedings immediately before kickoff, as UEFA appear to have avoided broadcasting images of both sets of players together holding up a banner reading "Stop War".
The sign was a clear message of solidarity toward the people of Ukraine from the FC Barcelona and Napoli players, yet international audiences were not able to see images of this moment live on their televisions.
In the early hours of Thursday morning, the troops of Russian president Vladimir Putin invaded neighboring country Ukraine, sparking war and devastation in the Eastern European nation. Protests against the war have broken out in Barcelona, both in front of the Russian consulate and in the city center, ever since the news broke.
The referees, of Russian nationality, did not join the players in holding up the message. During the moment that the banner was held up, the broadcast showed both team's starting lineups instead.
The move has sparked disappointment and shock among commentators and football fans, with hosts on Catalan radio station RAC1 branding the decision "shameful."
Spanish media outlet Cadena COPE also reported that fans entering the Diego Armando Maradona Stadium in Naples were prevented from bringing any Ukrainian flags or anti-war posters into the arena. COPE claimed that the reason for this was the fact that the referee, Sergei Karasev, was from Russia.
On Friday morning, UEFA moved this season's Champions League final from Saint Petersburg, the second-largest city in Russia, to Paris, while the organization also receives millions each year in sponsorship from Russian majority state-owned gas company Gazprom.
Girona say no to war
Girona FC manager Míchel also denounced the military operations in his Friday press conference, speaking on behalf of the club.
Aturem la guerra! #NoALaGuerra #StopWar pic.twitter.com/NYV8iRAj5v

— Girona FC (@GironaFC) February 25, 2022
"First of all, in the name of the whole club, no to war," the former Rayo Vallecano manager said at the beginning of his press conference.
He explained that one of the members of the club media team has family in Ukraine and offered his solidarity with them.