Key renewals give Laporta and Barça a desperately needed reason to smile
Teenage stars Pedri and Ansu Fati sign new contracts with buyout clauses of €1 billion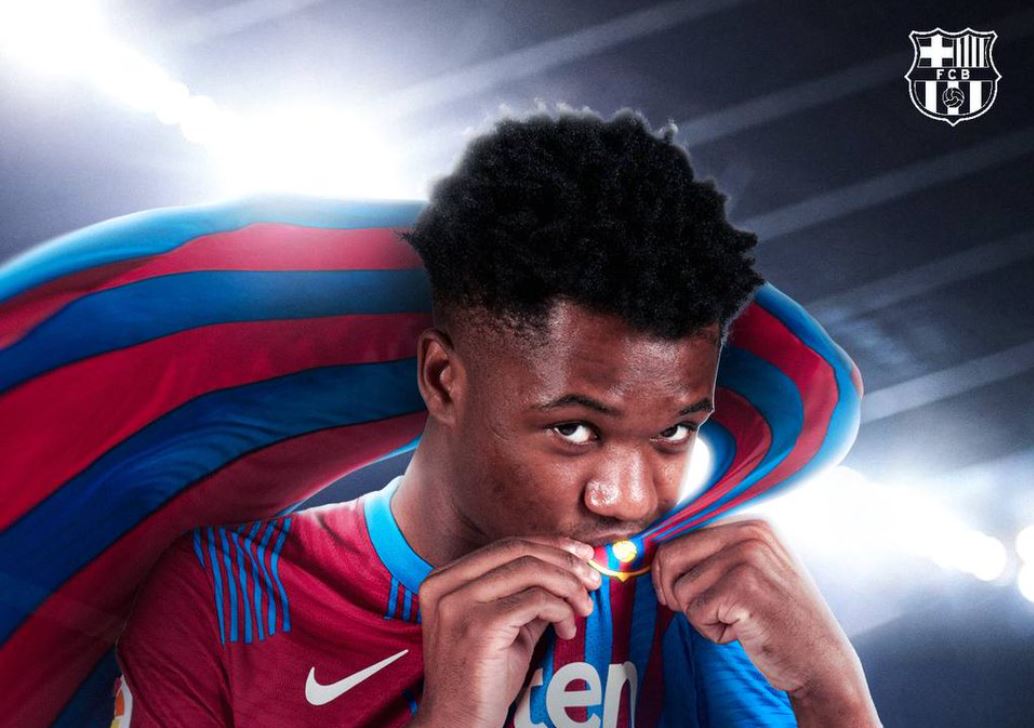 It's been a difficult season for FC Barcelona so far this campaign, with some up-and-down results, unconvincing performances, and uncertainty surrounding the position of manager Ronald Koeman running from last summer into the autumn.
However, this week has given culers plenty of reason to smile, with the biggest news being the renewals of the contracts of two teenage superstars in the team, Pedri and Ansu Fati.
Pedri's new deal ties him to Barça until the end of the 2025/26 campaign, while Fati's will last one year longer. Both new contracts come with buyout clauses of €1 billion.
Ansu Fati, now wearing the number 10 jersey vacated by Lionel Messi, marked his eagerly-awaited return from injury in late September with a goal against Levante and followed it up with another last weekend against Valencia.
Various local media outlets have reported that Fati rejected at least three offers from other clubs and instead chose to stay at Barcelona where he will earn less than half the wages that were offered to him elsewhere.
The deals were both announced during the week that the blaugrana overcame the tough test against Valencia before sealing their first Champions League win this season, beating Dynamo Kiev in a must-win encounter after two previous morale-sapping defeats to Bayern Munich and Benfica.
Barça had set an unwanted club record of not registering a shot on target in their first two European matches of this season, but that record has been put to bed with the victory thanks to Gerard Piqué's 16th Champions League goal, making him the joint-highest scoring defender in the history of the competition.
Due Diligence financial report
The good news came just before Sunday's el clásico meeting with Real Madrid, which could be another opportunity to confirm the change in on-pitch fortune after what's been a turbulent season for Barça in an even more turbulent era with the club in turmoil off the pitch.
In early October, Barcelona published results of the 'Due Diligence' report, a specially commissioned investigation into the financial management of the club in recent years.
It revealed "serious administrative deficiencies" and debt and future liabilities amounting to €1.35 billion, and an "urgent need for refinancing."
Club CEO Joan Reverter gave interviews in the local press at the time of the publishing of the report, and damningly claimed that the previous board used to sign players without being able to pay for them.
Indeed, the Due Diligence report also says the club was in a state of "technical bankruptcy," and points the finger at the previous board, led by Josep Maria Bartomeu, without explicitly naming him or anyone else associated with his administration.
Rather, it outlines the deteriorating financial situation that occurred in the time period that Bartomeu was in charge: a 61% increase in player wages in five seasons, a 56% increase in administrative expenses in five seasons, a €514 million increase in debt from 2018-2021.
Camp Nou redevelopment plans
It has also been revealed in recent weeks that the Camp Nou stadium has fallen into a state of disrepair and needs urgent attention.
Some parts of the ground are crumbling, and the report also outlined how pigeon nests and excrement have taken over some areas of the stadium, leaving foul smells.
To face this problem, the club have announced plans for a transformation project of the Camp Nou with an initial cost estimation of €1.5 billion.
The ambitious project would see a completely renovated home for FC Barcelona, with improved facilities for spectators, a retractable roof covered in solar panels, a 360-degree screen throughout the inside of the ground, and green spaces in the surroundings.
The plans will first be presented to a general assembly for approval, before then being put to club members in a referendum.