Catalan Mossos police search FC Barcelona offices at Camp Nou
Financial crimes unit leading operation resulting in at least four arrested, including former president, over reportedly hiring company to discredit perceived enemies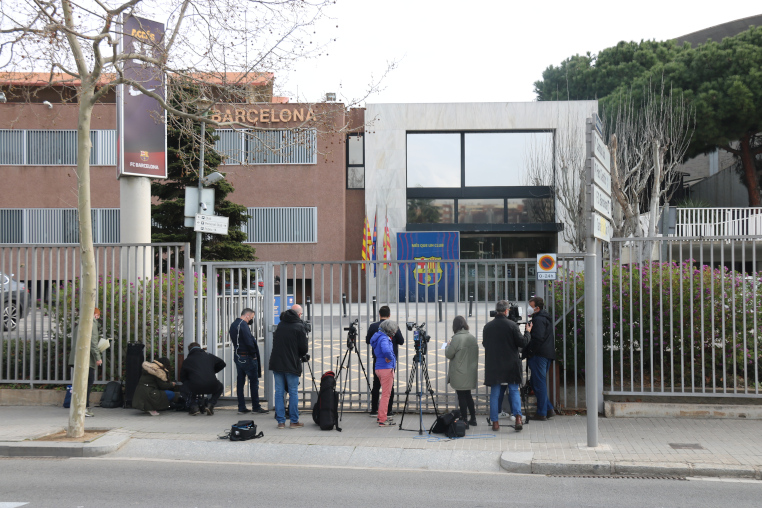 The Catalan Mossos d'Esquadra police began to carry out a search of the FC Barcelona offices at Camp Nou on Monday morning, ultimately leading to the arrest of the club's former president, Josep Maria Bartomeu.
Law enforcement's financial crimes unit is leading the operation – it is the second time officers investigate the club's alleged wrongdoing after having previously requested documents relating to the 'Barçagate' scandal.
Four people were arrested on Monday morning for 'Barçagate' so far, including the club's former president Josep Maria Bartomeu, former board member Jaume Masferrer, Barça's current CEO Òscar Grau and the head of legal services, Román Gómez-Ponti.
After several hours, the club's head of legal services, Gómez-Ponti, was released after refusing to testify. The other three also refused to give their testimony but were not released from the police station where they were being held.
Barçagate scandal
In April 2020 it was revealed that the club had reportedly hired a social media company to publish negative stories about perceived enemies of then-president Josep Maria Bartomeu, including current players and former figures with ties to the club, and positive stories boosting Bartomeu's reputation.
A few months later, a number of board members resigned, citing a lack of faith in the club's management; Barçagate was just one of the examples given.
Payments to the company for these services were staggered, meaning that each fell below the amount needed to be approved by the board and were kept hidden from most of the club's leadership and the public.
Election on Sunday
This and other scandals led some members to launch a vote of no confidence against Bartomeu, which did not end up taking place as he resigned beforehand.
Next Sunday, on March 7, FC Barcelona will hold an election to designate the new president for the coming six years, with three candidates: former president Joan Laporta, Víctor Font and Toni Freixa.
Candidates' and club's reaction
One of the bidders, Toni Freixa, reacted to the news on Twitter: "Too many people want to harm Barça. We will not allow it. You'll never walk alone."
Font retweeted a post by an editor supporting him, which read: "We have to end with corruption. They are neutralizing us, they are killing meritocracy. This way of doing is inherent to an era that needs eradicating, if we want to push forward a country without burdens and fears."
AS newspaper reported on Laporta's reaction: "Firstly, innocent till proven guilty but but it's not good news for Barça that this person has been detained. His management of the club was not good and it is shocking news."
In an official statement issued on Monday afternoon, FC Barcelona confirmed it was offering "full collaboration" to police and legal authorities to "help make clear facts with are subject to investigation.
ℹ️ Official statement from FC Barcelona

— FC Barcelona (@FCBarcelona) March 1, 2021