Barça Femení 'open doors' for future generations with historic first European title
Blaugrana hammer Chelsea 4-0 in Champions League final to set up unprecedented treble in record-breaking season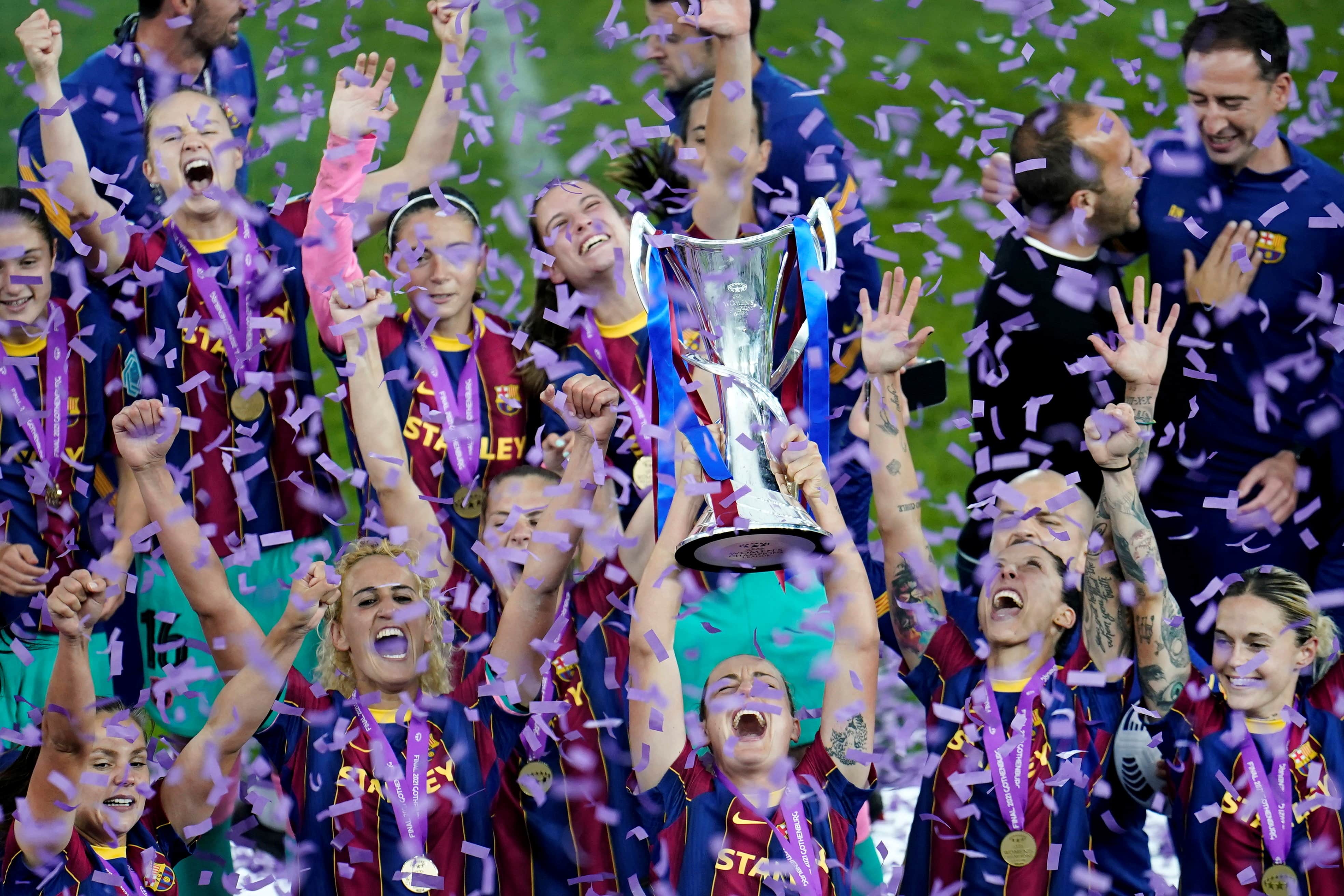 Newly crowned champions of Europe Barça Femení are one course for one of the greatest campaigns that the sport of football has ever seen, picking up victory after victory on the pitch, and inspiring generations of girls off the pitch by showing them what true excellence looks like.
A 4-0 hammering of Chelsea in the Champions League final in Gothenburg gave the Catalans their first ever European title, having led from the first minute. Barça Femení already have the league championship sewn up with 26 wins from 26 games played, cementing their position as eternal role models and reference points for future generations of girls interested in playing the beautiful game.
Lluís Cortés's troops are smashing records left, right, and centre, and can still pick up an unprecedented treble at the end of this month, as Madrid CFF await them in the semi-final of the Copa de la Reina.
Yet, more than just trophies, records, and glory, this blaugrana side are "opening doors for young girls" across the country, as told by victorious captain Vicky Losada to the cameras of TV3, Catalonia's public broadcaster, following the game.
TV3 broadcast the game on their main channel, as did open-air station Gol TV, allowing fans across Catalonia and Spain to witness Barça Femení's finest hour. A total of 1.67 million spectators tuned in to the game at some point on TV3, and there was an average viewership of 864,000 across both channels.
Role models for future generations
Visibly emotional and holding back tears of euphoria, Losada eloquently explained that she believes the win is "very important, because it's not just winning, it's what you create across the whole country. Maybe people don't realise it, but this is even bigger than a gigantic step forward, it's opening doors for women and for girls, this is what makes me happiest."
Until now, young girls in Catalonia interested in football haven't had quite the same level of role models in the women's game. Barça's first league title arrived in 2012, and the team became professional in 2015. Previously, no Catalan or Spanish side had ever lifted the European cup.
When asked how it feels to now be the example for stars of the future that she didn't have, Losada told TV3 that she dreamed of winning the Champions League for many years, "and now, young girls can too."
"We're going to enjoy it, we've opened many doors and we're going to continue opening many more."
The names Vicky Losada, Alexia Putellas, Aitana Bonmatí, Lieke Martens, Kheira Hamraoui, Sandra Paños, Jenni Hermoso, Mapi León will forever be etched into Catalan football lore with this victory, along with the rest of the incredible squad manager Lluís Cortés has built.
From pain of 2019 to glory
The Catalan giants made their first European final two years ago but came up against a formidable Lyon side that couldn't be stopped on their way to winning five European titles in a row. Despite the heavy defeat, Barça knew it was just as important to make the step to reach the final, understanding that huge progress was being made and that their time would soon come.
With the victory, FC Barcelona have become the first club to win the Champions League in both women's and men's football.
In post-match comments to TV3, defender Mapi León spoke about the pain the team felt in 2019 and falling at the semi-final stage last season. Two years later, FC Barcelona claimed their first Champions League title using the past near-misses as extra motivation to push themselves over the line this year.
Barça have also picked up a record-breaking sixth league title this season with almost a quarter of their games left to play, and they've done it in style. From 26 games and 26 wins, they've scored a terrifying 128 goals and have let in a miserly five, making for a +123 goal difference.
In league competition, they've netted an average of almost 5 goals per game. Yet, the league's top scorer is not even a blaugrana player, but rather Levante's Esther Gonzalez, showing just how well-rounded a team Barça Femení are.