Tsunami Democràtic confirms 'hundreds' of 'protest and culture' activities on day before general election
Anonymous pro-independence group plans events for "day of disobedience against the electoral authority and in favor of fundamental rights"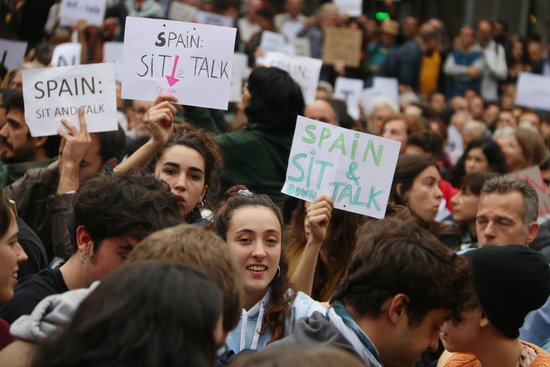 Anonymous pro-independence group Tsunami Democràtic has confirmed that it has planned "hundreds" of "culture and protest" activities in over 200 cities throughout Catalonia and a few in the Balearic Islands on Saturday, November 9 – the day before Spain's general election.
In what is intended to be a "day of disobedience against the electoral authority and in favor of fundamental rights," dozens of musicians, writers, professionals, and activists will partake in events with the aim of reminding Spain that "the only way" to solve the Catalan conflict "is through politics."
While political rallies are forbidden on the so-called 'day of reflection' before the election, a 2010 Constitutional Court ruling permits demonstrations as long as their capacity to influence the vote is "remote."
Some of the groups that will be playing concerts in Barcelona include bands such as Els Catarres, Monste Castellà, Músics per la Llibertat, or Zebrass. Aina Torres, David Casasses and David Caño will participate in poetry readings and activists will also be leading workshops on social rights and freedoms.
Other Catalan cities that will be hosting Tsunami Democràtic events include Terrassa, Granollers, Girona, Vilanova i la Geltrú, Valls, Reus, Vic or Manresa.
Police reinforcement for electoral weekend
The head of the Catalan Mossos police, Eduard Sallent, has ordered the deployment of the "largest number of police personnel possible" for this upcoming electoral weekend ahead of any potential unrest.
The deployment, which will include thousands of officers from all Catalan police divisions alongside both Spanish National and Guardia Civil forces, is designed to maintain order in the face of possible disruptive actions carried out by people protesting against the Supreme Court's ruling on the independence movement's leaders.