Tens of thousands turn out in Barcelona for and against independence
80,000 marched for Spanish unity on Sunday after 350,000 showed support for splitting from Spain on Saturday, down from 525,000 at general strike demo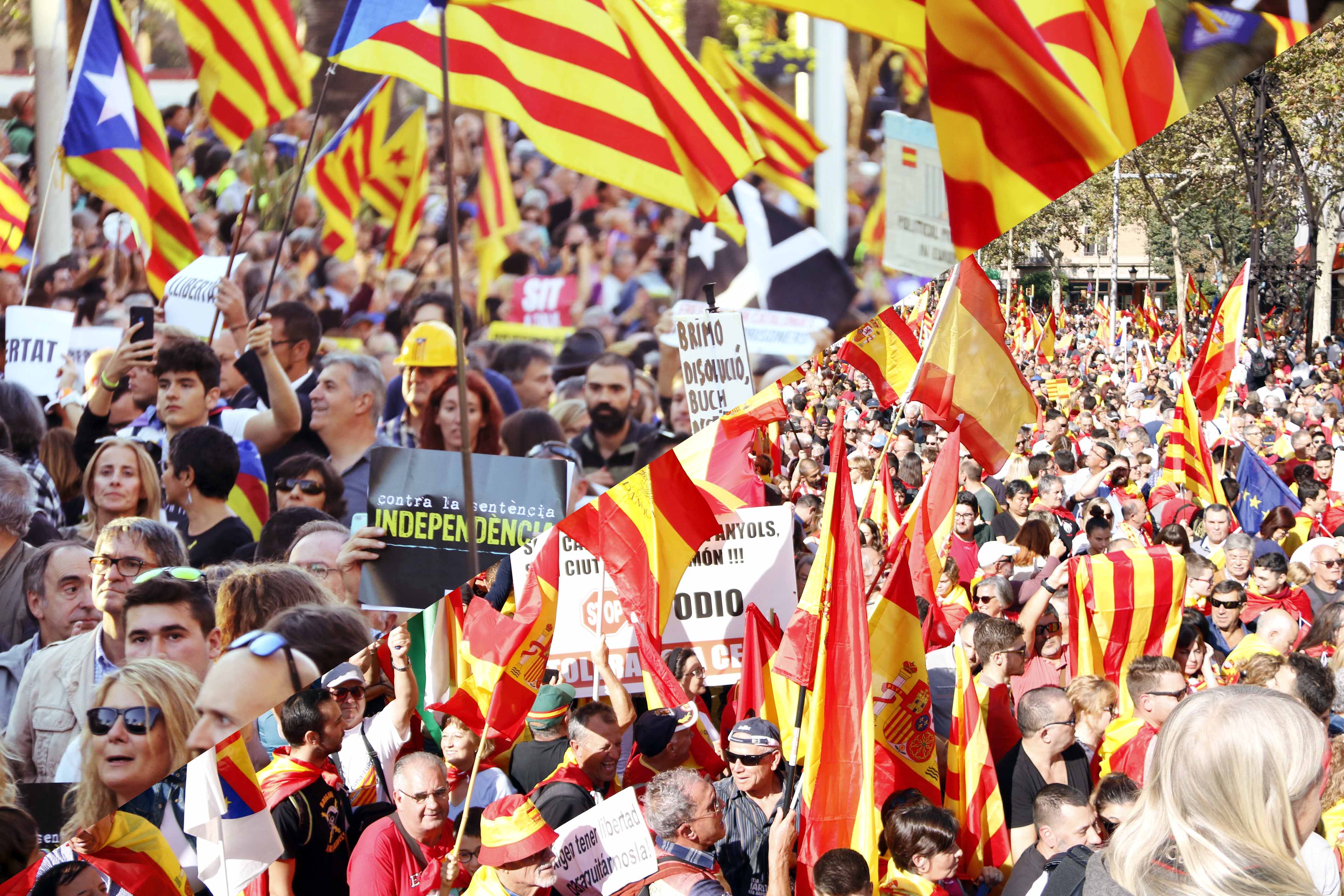 Tens of thousands of protesters took to the streets of Barcelona over the weekend, with one demonstration on Saturday in favor of independence, and another on Sunday against the movement in favor of splitting from Spain and in support of Spanish unity.
Some 350,000 people attended Saturday's rally, said local police, outnumbering the 80,000 that police said turned out on Sunday. Yet, the number of pro-independence supporters was down from the 525,000 seen at demonstration on the day of the October 18 general strike.
In the last two weeks, Barcelona has seen daily protests against the decision by Spain's Supreme Court to sentence Catalan independence leaders to jail terms of up to 13 years over the failed 2017 independence referendum, as well as unrest on the streets most nights.
Clashes with police on Saturday night
Saturday was no exception, as the peaceful mass rally that took place between the Sagrada Familia church and the seafront earlier in the evening was followed by a group of 10,000 protestors clashing with police near their headquarters on the Via Laietana avenue.
During the unrest, protesters threw objects such as bottles and stones at riot officers, who responded with baton charges and fired some projectiles to disperse the protesters, who regrouped further away and built barricades on the nearby Gran Via avenue.
"We are Catalans too"
Sunday's pro-Spanish unity protest was in part a response by anti-independence supporters and parties to the recent episodes of street violence. Attendees at the unionist rally on Sunday marched under the slogan: "For coexistence, democracy and Catalonia. Enough!"
Organized by the Societat Civil Catalana group, made up of parties and organizations that want Catalonia to stay part of Spain, the march on the Passeig de Gràcia boulevard saw protesters with Spanish and Catalan flags, and banners reading: "We are Catalans too."
Two years since independence declaration
Sunday's demonstration coincided with the second anniversary of the Catalan parliament's unilateral declaration of independence in 2017 that saw the Spanish government of the time sack the Catalan executive and temporarily suspend Catalonia's self-rule.
That led to the arrests of the recently imprisoned leaders, while others went into exile abroad, including former president Carles Puigdemont. An arrest warrant was issued for Puigdemont on the day of the sentences, with an extradition hearing due on Tuesday.