Supermarkets and charities work together against food waste in Catalonia
Catalan supermarkets and charities are working together to fight against the 1.18 million tonnes of food wasted each year in Catalonia. With 1.3 billion tonnes of food wasted each year worldwide, the issue of excess food is becoming increasingly important. Of the global figures, 89 million tonnes come from the EU, while 8 million come from Spain, making it the 7th highest in Europe. Of Catalonia's share, the equivalent of 34.9 kg is wasted per person on an annual basis. One approach in reducing this figure is being undertaken by supermarkets, which are responsible for 16% of total excess food in Catalonia, equivalent to 41,600 tonnes of food a year. Approaches vary from locking bins to reducing prices, and relabeling food products. Moreover, Catalan charity Banc dels Aliments has been active in the campaign against wasting food, running a six-year long annual event of redistributing donated food.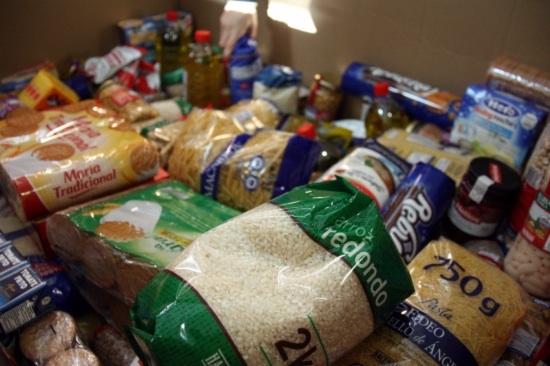 Barcelona (CNA).- The problem of the excess production and consequent waste of food, is a global one, with United Nations figures estimating that 1.3 billion tonnes of food are wasted worldwide each year. In European Union terms, this is 89 million tonnes, of which Spain ranks 7th in the continent, with 8 million tonnes. According to a 2011 study by the Autonomous University of Barcelona, Catalonia is responsible for 1.18 million tonnes of food waste a year, 14.8% of Spain's total despite it representing 16% of the country's population and 19% of the GDP. Various schemes are underway to continue reducing such figures. In terms of food wasted at the primary level, an EU funded project called 'NOSHAN' is currently converting agricultural waste into animal feed, while at a secondary level, several supermarkets chains are addressing the issue of hungry citizens in Catalonia through redirecting them to food centres, a scheme began in Girona in 2012. Supermarkets have used various projects to reduce waste, from locking bins, to slashing prices and relabeling food. One organisation that has been particularly active in the campaign against the waste of excess food is Catalan charity Banc dels Aliments, through their annual event the 'Gran Recapte' (Great Collection, in English) where they redistribute donated food.
It's 4 o'clock in the morning. A man, let's call him Joe, is in the dingy backstreets behind a Condis supermarket in Girona, when he sees the big supermarket bins. He decides to break in for dinner, but finds the bins locked. Is this yet another example of individuals powerless in an increasingly selfish world? No, on the contrary, it is a clever scheme to give more people access to the food that supermarkets would otherwise throw away. On the outside of the locked bins, there is a sign giving directions to the nearest food distribution centres. Why? This way, Joe will not accidentally eat something that will make him ill, and he avoids having to root around in a bin for a bite to eat, but he will be given a more dignified environment, with help if he needs.
This was a scheme initially began by the Girona City Council in 2012, who had noticed an increasing number of people resorting to breaking into the supermarket bins after closing hours. The City Hall proposed to begin locking them to prevent people getting sick from consuming unfit food, but through the labels on the bins, direct them to a safe and private environment to find food. The idea was then supported by a number of Girona-based supermarkets, including Condis, Novavenda and Bonpreu, and the charity Banc des Aliments (Catalan for 'Food Bank').
According to Eduard Berloso, the City Council Member in charge of the Girona Social Services department, the scheme was to "guarantee [citizens'] right to food" while at the same time saving them from the indignity suffered, and potential health risks posed, by rooting in bins.
The Catalan charity Banc dels Aliments was a voracious advocate of the scheme, as alongside the helping the approximately 100 citizens who had been resorting to breaking into bins in Girona, the scheme joins the fight against food wastage in general. The main objective of Banc dels Aliments is to fight against hunger, through channelling the excess food that is consumable but unsellable, to those people in need of it.
In 2012, 34.9 kgs per person wasted in Catalonia - enough to feed half a million a year!
According to the United Nations' Food and Agriculture Organisation (FAO) global food production for the year 2050 will have to increase by 70% in order to feed the world population, which will rise from 7 to 9 billion people. While the United Nations estimates that over 1.3 billion tonnes of food is wasted each year worldwide, 89 million of which come from the EU and 8 million from Spain.
Catalonia has already attempted to fight this global squander with an innovative venture to convert agricultural waste into animal feed, in the European research project NOSHAN, which was coordinated by the Catalan technological centre LEITAT, through €3 million of EU funding. The project began in 2012 and is ongoing.
So far, NOSHAN has been developing new processes for conditioning food waste into animal feed based on adapting processed materials into the requirements for target animals (pigs and poultry), in ways that are both technically and economically viable and with maximal sustainability. This project with its "Best of the Rest" approach is an attempt to curb food waste at the primary level, through stemming the leaks from the industries of agriculture, food processing and fisheries.
The scheme adopted by the supermarkets in Girona however, deals with the food waste at the secondary level. According to a study called "Responsible Food Consumption" by the Catalan Waste Agency and the Autonomous University of Barcelona (UAB), begun in 2011 and published last year, in Catalonia 3.74 million tonnes of food is produced a year, of which 2.56 million is eaten, and 1.18 million is discarded. Of the discarded food, some is unavoidable (pips, bones, seeds) but 262,471 tonnes is fit for consumption, but wasted. Of all the solid food products acquired by homes and shops, 7% is thrown away, equivalent to 34.9 kg per person per year, representing enough to feed half a million people for a year! This data refers to the municipal waste collection, waste from whole sale distribution, the agrifood industry or the primary sector has not been taken into consideration.
Surprisingly, it is not supermarkets and restaurants which are the biggest culprits, but families and individuals who throw away 58% of all food wasted in Catalonia each year (150,800 tonnes). While studies published inform individuals against this, and campaigns to stop waste, it is difficult to control what people do in the privacy of their own homes.
Supermarkets however, are responsible for 16% of all food wasted. While this seems small, it is equivalent to 41,600 tonnes of food a year. That is a rather large amount of food. What are we doing about this? Several big Catalan supermarkets have been active in the fight against food wastage.
Supermarkets are cooperating to reduce food waste
According to the Bonpreu supermarket chain, which, incidentally, was the first big supermarket in Catalonia to begin a campaign against using plastic bags, back in 2008, most supermarkets have an agreement with the Catalan charity Banc dels Aliments to donate their excess food. They explained a bit about their bag campaign (basically they rewarded those willing to bring a bag from home instead of taking plastic ones, with 2 cents off every 10 euro purchase) but pointed out that they can hardly stop customers wasting the food once they get home. According to Ana Mas of Bonpreu, "we reduce the price before the food goes off, but we always sell the food before its expiry date". Many supermarkets in Catalonia have a similar method of reducing the prices of foodstuffs as they near there expiry dates, which is also used by many other supermarket chains throughout Europe.
So most of the Catalan supermarkets do have systems with various charities, including Banc dels Aliments, and Social Services from town halls and the Catalan Government, to whom they donate their excess food that is fit for consumption but cannot be sold. In some cases, this includes food which is beyond its 'best before' date, but still fit for consumption. However, these donations to not go to humans. Due to the legal minefield this could present should someone get ill from expired food, this cannot be donated onto people. In these instances, the food products are then passed onto animal charities for animals in need.
Another large and popular supermarket chain in Catalonia is Mercadona, which donated over 1,900 tonnes of food to charities last year. According to their Human Resources Director in Catalonia, Joan Gili Saldaña, the majority of this food goes to Banc dels Aliments, with whom they have an external equity arrangement. In turn, the charity then distributes the food around the country, so it appears that Barcelona's excess is spread around Catalonia. In 2012, Mercadona began a somewhat controversial policy of locking their bins (which is unrelated to the Girona campaign to redistribute the food).
On its bin locking, Gili stated that: "Mercadona has their containers inside the store, in a special room with an odour elimination system. Products that we throw are broken or in poor condition, and they are not suitable for consumption". In their most recent annual report, Mercadona cite their "Golden Rule" of food safety in which 'attractiveness' is the third priority out of six.To this, Gili said "Mercadona does not distinguish the image of the products, in fact we say 'buy the whole tree, the beautiful and the ugly', as we understand it is a good way to avoid waste". In the same report, the supermarket also explains it will be stocking greater amounts of "fresh products with superior quality" to be more like "shopkeepers". Whether these two approaches lead to greater excess of food, Gili replied only that "Mercadona does not look at fresh produce as higher sales, we want fresh products with superior quality, and we want the best service that customers expect". However, Gili did stress that Mercadona made every effort to avoid the waste of food by efficient transportation to enable fresh produce to reach stores as quickly as possible.
Banc del Aliments has been collecting food for the last 6 years
One organisation whose name appears frequently in this research is Banc dels Aliments. The charity dedicates itself to eliminating food waste, and their director, Anna Battle, told the CNA more about their campaign in an interview.
The Catalan charity has been running a six-year long campaign by organising a volunteer run annual event known as the 'Gran Recapte' (The Big Food Collection) to collect food from supermarkets. The initiative consists of setting stands at the supermarket exits and ask customers to donate non-perishable produce such as rice, oil and tuna cans, and then redistributing the collected food to people in need.
This year it is taking place between the 28th and 29th of November and it has over 20,000 registered volunteers, including the participation of Catalan celebrities. In the Tarragona Province (southern Catalonia), thanks to a collection organised from the town of Reus where the Banc dels Aliments has its provincial headquarters, 250,000 kg of food were collected last year. While in the whole of Catalonia, the Gran Recapte 2013 collected over 3.634 million kg of food, in over 1,900 collection points, with the help of 20,000 volunteers.
To questions about the Girona bin scheme, Batlle confirmed this to have been a big success, and explained another programme, 'Supers'. Through this programme, beneficiaries living near supermarkets and other food establishments can go several times a week to collect fresh produce that is near its dates of preferred consumption or expiry. She told me that last year in Barcelona, this resulted in the collection of "more than 1,000 tonnes (1,157) from over 500 collection points".
So while last year's figure of 34.9 kg of food being wasted per person in Catalonia is high, nevertheless through the partnership of charities, supermarkets and the participation of ordinary citizens, it is hoped this number will be reduced in the years to come.