Spain urged to return papers stolen by Franco to Catalonia
Catalan Dignity Commission says 10,000 outstanding Salamanca Papers must be brought back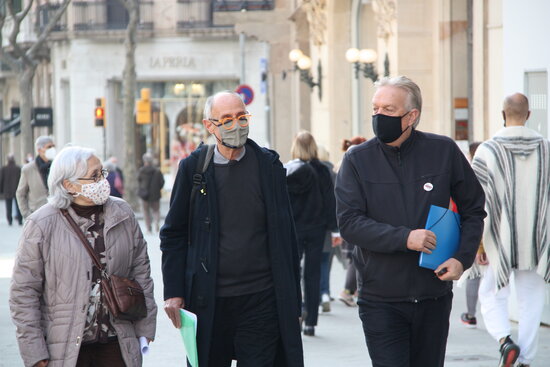 The Catalan Dignity Commission has filed an official complaint with the Spanish authorities over the delay in returning the outstanding Salamanca Papers, a collection of documents and photographs seized by the Francoist regime from the Catalan government in the aftermath of the Spanish Civil War.
The move, announced at a press conference on Wednesday, is the final step the commission has to take before launching legal proceedings, something it says it will do if it doesn't receive a response within two months.
The commission's coordinator, Pep Cruanyes, said that they have also sent letters to the Spanish Culture and Defense Ministers demanding the "immediate return of all requisitioned documentation" and accusing them of not complying with a Supreme Court ruling from June 2019 ordering the material to be returned.
The letter, seen by ACN (the Catalan News Agency), criticizes the Spanish government for the lack of action a whole nineteen months on from when the verdict was delivered.
"The documents have not been returned with the excuse that the people to whom they were addressed didn't exist," Cruanyes explained. "It is quite an absurd statement," he said, as there are papers belonging to, among others, the family of former minister Josep Maria Jové, the Jesuits, and a charitable home run by the Sant Josep de Tarragona Foundation.
Some of the material is in the Ávila archives, overseen by the Ministry of Defense. "It doesn't make any sense that after so many years the Spanish army still maintains the spoils of war," Cruanyes said.
Although the Catalan Dignity Commission estimates that around 95.5% of all of the Salamanca Papers have been returned, they say that there are still about 10,000 documents that should be returned.
"Some fringes are still pending," Cruanyes said, adding that "historical memory goes beyond symbolic acts like the exhumation of Franco."
300,000 documents
The Salamanca Papers refers to the 300,000 documents and 1,000 photographs belonging to the Catalan government and other Catalan organizations and individuals that were confiscated by Franco's forces from 1939 and brought to the city of Salamanca, near Madrid.
Since 2002, the Catalan Dignity Commission has campaigned for the materials to be returned to Catalonia, and in 2006 the first documents were transferred to the National Archive of Catalonia.