Spain bans all incoming flights from Italy from tomorrow
Meanwhile Spanish Congress suspends events after first MP infected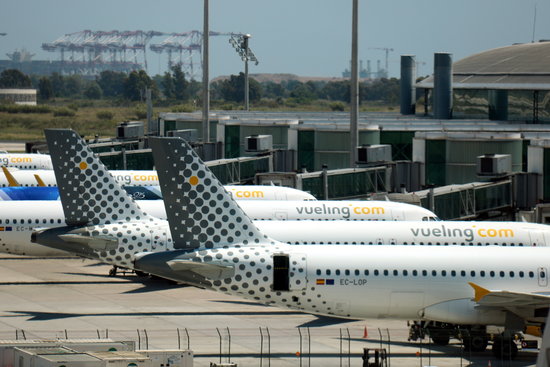 The Spanish government has banned all incoming flights from Italy from tomorrow until March 25 due to coronavirus concerns.
Accorging to airport managment company AENA, Catalonia's main airport Barcelona-El Prat has flights to 14 Italian destinations. Girona airport in the north of Catalonia has flights to two Italian airports.
The flight restrictions won't apply to State aircrafts, or to non-commercial stopovers, or to cargo, humanitarian, medical or emergency flights. Positioning flights (flights made without passangers so that aircrafts are in the right aiport for their next scheduled flight) are also permitted.
The whole of Italy is currently in a country-wide lockdown in an attempt to curb the spread of the coronavirus.
The overall number of passengers using the three main Catalan airports this time last year were as follows: Barcelona-El Prat had 3.26 million passengers in February 2019 and 3.96 million in March; Girona had 34,100 passengers in February 2019 and 40,100 in March; and Reus had 3,800 passengers in February and 4,700 in March.
Passenger numbers for February 2020 are due to be released this week.
Congress Suspended
Meanwhile, Spain's Congress has cancelled all plenary sessions and committees scheduled for this week due to concerns over the coronavirus, and is suspending extra-parliamentary events indefinitely.
This came just hours after a senior MP for Vox, Javier Ortega Smith, tested positive for the virus, as announced by the political party on Tuesday.
He is the first congressman with covid-19, and the news broke only two days after he featured in a 9,000-strong indoors political rally in Madrid.
Congress has suspended meetings, debates and other events indefinitely, and has closed its child care center.
In addition, the institution encouraged its employees and MPs to work from home "wherever possible."
The far-right Vox party has asked for the Spanish government to assess whether to declare a state of emergency.