Protests one month on from jailing of Catalan rapper Pablo Hasel
Hundreds in Barcelona march under banner: 'For our rights and freedoms. Free Pablo Hasel, total amnesty'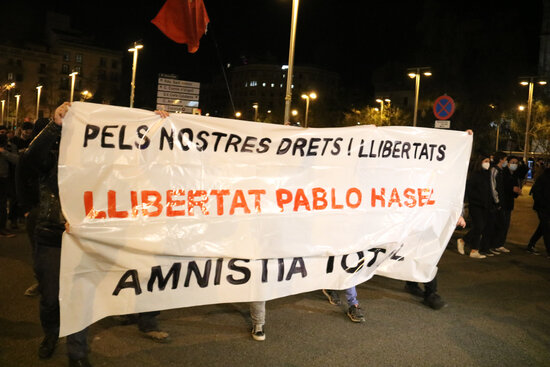 Protesters have gathered in the center of Barcelona to demand the release of the rapper Pablo Hasel, jailed one month ago for the contents of his lyrics and tweets.
The protest network Committees for the Defense of the Republic (CDR) called on demonstrators to meet in the Catalan capital's Plaça Universitat at 7pm on Saturday evening.
At around 8pm the crowd, numbering in the hundreds, mobilized and starting walking down Pelia Street, behind a banner reading 'For our rights and freedoms. Free Pablo Hasel, total amnesty.'
Protesters moved peacefully through Plaça Catalunya and, after being blocked by a line of police on La Rambla, headed down Via Laietana. By around 9pm demonstrators reached the El Born area of the city, chanting slogans such as, "Pablo Hasel, freedom!" and "Catalonia, anti-fascist!"
Saturday's rally comes just over a month since Pablo Hasel imprisonment sparked almost two weeks of demonstrations and riots across Catalonia, which saw dozens injured and arrested, including a Scottish man, William Aitken, who has been in provisional detention for over a month.
Other Catalan cities such as Lleida, Girona and Tarragona also saw demonstrations calling for Hasel's release, as did cities across Spain including Palma, Alacant (Alicante), Madrid, Cartagena, Zaragoza, Malaga, Cáceres, León and Gijón.
In Tarragona, there were some altercations between protesters and the Mossos d'Esquadra police.