Protest march in Barcelona against soaring energy bills
More than 1,000 attend demonstration condemning "electricity scam"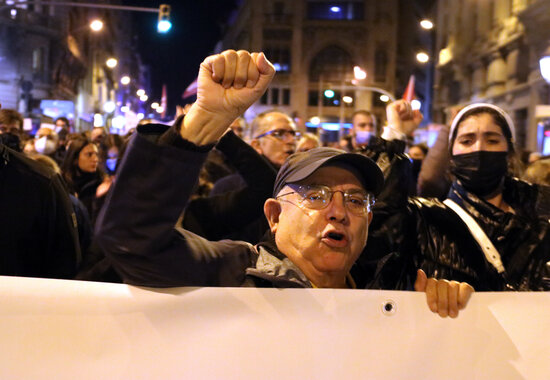 More than 1,000 people gathered in the center of Barcelona on Saturday evening in protest against what the call "the electricity scam", in other words, the soaring price of energy bills.
The demonstration was called by various groups including the Alliance Against Energy Poverty, the PAH (People Affected by Mortgages), the Sindicat de Llogaters tenants' union and the CGT trade union.
The crowd marched from Plaça de la Universitat towards Plaça de Catalunya and Via Laietana, with signs and banners attacking the recent price hikes and saying they did not want "get cold this winter."
People of all ages came out to criticize energy bills which are up 44% on last year, saying it is an "abuse" on the part of a market controlled by large companies such as Endesa, Iberdrola and Naturgy, companies singled out by the protesters who chanted "Endesa, Iberdrola, you're robbing the people" and "the energy companies rob us and the governments collaborate."
Organizers claim that between 10% and 15% of the population are living in energy poverty and call for structural reform to reduce electricity prices, especially as winter approaches.
As Mónica Guiteras from the Alliance Against Energy Poverty explained during the demonstration, as prices rise, people are "anxious" and "lacking clear information."
Podcast
For more on Europe's energy crisis and what's behind soaring electricity bills, listen to the Catalan News podcast Filling the Sink below.