Energy poverty: when it comes down to buying food or paying utility bills
Grassroots group fears electricity price hikes will "take a toll on physical and mental health"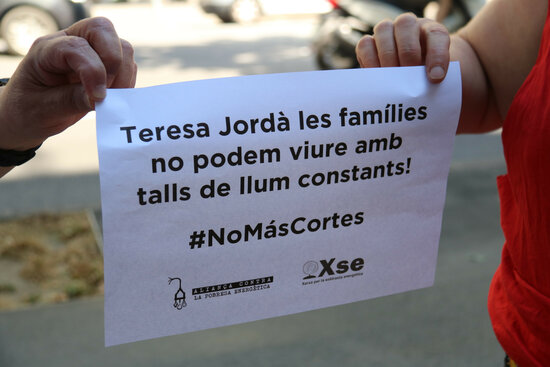 Marc Escarrabill is a man in his early thirties who has fibromyalgia and lives in the central Catalan city of Vic — a place he describes as "beautiful" but one that can get quite chilly in the winter.
When he lost his job two years ago, he was able to get by on benefits for a while. When those dried up, however, he was forced to make a stark choice.
"It's hard to live and pay rent and buy food in these conditions," he told Catalan News. "I eventually had to choose between paying my electricity and water bills or filling the fridge."
Escarrabill chose food. But after months of menacing phone calls, he got a letter from his utility company, Naturgy, threatening to take him to court for the €3,479.22 he still owed them.
This prompted Escarrabill to get involved in the Aliança contra la Pobresa Engètica ('Alliance against energy poverty' in English), a grassroots group founded in 2014 that advocates for the 10% of the population affected by energy poverty in the form of piles of debt, having their utilities turned off, or keeping their use to a minimum due to their cost. It was the APE who told Escarrabill not to worry about the letter — it was just an empty threat.
Catalonia's energy poverty law
The Alliance has had some significant victories. "Catalonia is one of Spain's territories where energy poverty has been treated as a key issue," spokesperson Maria Campuzano explained. "It's one of the places where legislation on the matter is most advanced."
One thing that does set Catalonia apart from other parts of Spain as well as Europe is a law passed by the Catalan parliament in 2015 — thanks to a citizens' initiative promoted by the APE — that forces utility companies to consult with social services before taking action against unpaid bills.
If the people in question are considered "vulnerable", their water, gas, and electricity cannot be switched off, something the Alliance recently estimated to have benefited some 200,000 households since the law first came into place.
The law does have some blind spots, however, notably in terms of debt. Although it states that the Catalan government must reach agreements with companies to take on the utility bill debt of vulnerable people, over five years later it has only signed a deal with one, Endesa. This agreement, which was finalized late last March, should help out around 35,000 households.
Yet, people like Marc who have contracts with Naturgy or other utility providers will have to wait to have their debt pardoned for now.
Spanish government measures
In Spain, there has been a so-called 'bono social' or social voucher for the past few years that provides at-risk households with either a 25% or a 40% discount on their electricity bills — if they have contracts in the regulated PVPC market — depending on their degree of vulnerability. It also gives them a few more months to pay their utility bill debt back. Last year this measure was extended to people who lost their jobs or who were furloughed because of the pandemic.
More recently, the Spanish government temporarily lowered the VAT and tax on electricity in an attempt to tackle the issue of soaring prices.
Physical and mental health
Energy poverty isn't going away anytime soon, especially as experts believe we should expect high electricity prices for the next few months at least.
Campuzano believes this situation, as well as the media frenzy it has spurred, is confusing. Utility companies, she warns, advertise low-rate contracts on the so-called "free market" — but when vulnerable people switch over to them, they can then no longer benefit from the social voucher and end up paying more than they did to begin with.
And the effects of continually rising costs are not only financial, Escarrabill argues. "There are elderly people and young people like me who are scared of turning on the light, making a pizza in the oven, having a heater on for too long," he said. "Soaring electricity prices worry consumers and end up taking a toll on physical and mental health."
Filling the Sink
Press play below to listen to the latest Filling the Sink podcast on rising electricity prices in Europe.