Prosecutor investigating handling of Covid-19 in seven Catalan care homes
Some 38 centers for elderly residents around Spain under investigation with possiblity of more being added next week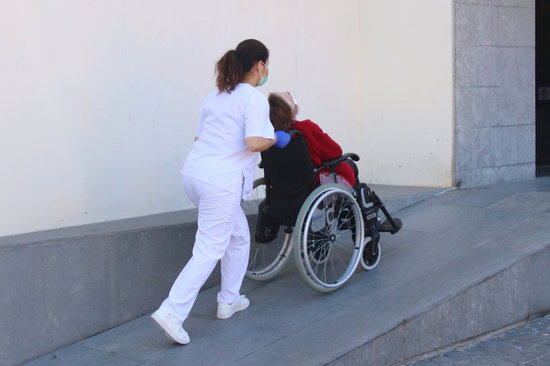 The public prosecutor has opened investigations into seven elderly care homes in Catalonia over their handling of the coronavirus crisis, out of a total of 38 such investigations around Spain, some 19 of which are in the Madrid region.
Sources in the prosecutor's office say that the 38 investigations are separate from others being carried out by other courts around Spain and that the number of homes under investigation could go up when they are reviewed on Tuesday.
A few weeks ago, the chief public prosecutor in Catalonia ordered investigations into more than a score of Covid-19 deaths in two elderly care homes, one in Capellades, in Anoia county, and one in Olesa de Montserrat, in the county of Baix Llobregat.
At the time, the chief prosecutor said the investigations could be extended to other homes in Catalonia if the number of deaths due to coronavirus continued to rise, and depending on the decision of the state prosecutor to investigate homes around Spain.
That decision came after the Spanish armed forces reported finding residents living with dead bodies in some homes. Defense minister Margarita Robles told a TV channel that soldiers had seen elderly people "totally abandoned" and "people dead in their beds."
Government admits mistakes in handling care homes
The handling of the coronavirus in care homes has come under scrutiny during the health crisis, with Catalan president Quim Torra admitting last week that the government could have done better reporting the situation and that a lack of clarity had led to "social alarm."
On Friday, the local authority in Vilanova del Camí, in Anoia county, confirmed that 47 residents had died in one care home in the town since the pandemic began, with 58 of the home's 107 residents currently in isolation after testing positive for the virus.
One of the biggest problems facing care homes during the crisis has been a lack of staff, and on April 1 the Catalan government's social affairs department reported that over 3,000 of 75,000 care workers in the country were in preventive isolation.
Catalonia has 1,073 public and private elderly care homes in total, with places for over 64,000 residents. As of April 11, some 342 care homes had reported confirmed coronavirus cases, with 1,663 residents reported as dying due to Covid-19.