Pro-Ukraine and anti-war protests take to the streets in Barcelona
On a rainy evening, 3,500 people gather to claim "no to war" with signs comparing the Russian president to Adolf Hitler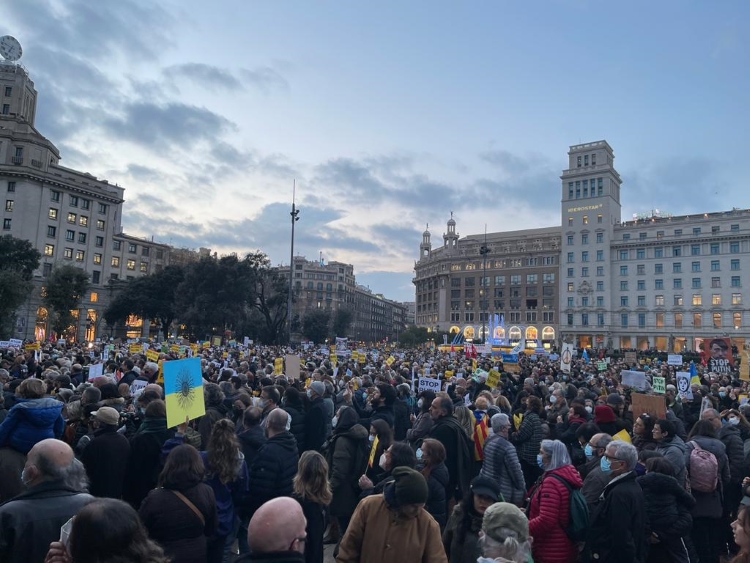 The impact of the Ukraine conflict is still present in Barcelona with protests in support of the invaded country on a daily basis. On Wednesday afternoon, Ukrainians gathered again for the seventh day in a row, while at the same time, anti-war demonstrators met at Plaça de Catalunya square. In total, there were up to 3,500 people according to Barcelona Guardia Urbana police.
Both protests had a similar goal, to stop the war in Ukraine, but they had different approaches. The anti-war platform, Stop the War (Plataforma Aturem la Guerra), with several hundreds of people, called for the conflict to end.
The Ukrainian protesters, on the other hand, reminded Europe that "nobody wants war, but let's not forget that families cannot be defended from tanks with words," according to their manifesto.
🎥 | A number of Russians are chanting 'No war' at the thousands-strong demonstration at Barcelona's Plaça Catalunya against the invasion of Ukraine

They are holding signs that make it clear Russia does not only equal Putinhttps://t.co/I6eKf0LY6V pic.twitter.com/ApmDZEQnMg

— Catalan News (@catalannews) March 2, 2022
The two demonstrations started in two different locations, several dozen Ukrainians first went to Plaça de Sant Jaume, between the Catalan government headquarters and Barcelona City Hall.
Later in the evening, however, they decided to join forces with the Stop the War protest in Plaça de Catalunya square.
At this second protest, which started at 6:30pm, there were hundreds of people chanting "No a la Guerra" (no to war) and the square fountains were illuminated with the colors of the Ukrainian flag.
🎥 Dozens of Ukrainians and their supporters, including @assemblea's @epaluzie, gather in BCN's Plaça Sant Jaume to reject Russian invasion

They are against the anti-war and anti-NATO protest being held in nearby Pl Catalunya, although they will join ithttps://t.co/I6eKf0LY6V pic.twitter.com/KLFVtwRO4m

— Catalan News (@catalannews) March 2, 2022
In a statement released on Tuesday the anti-war group urged all parties to "reduce the militarization of the Ukrainian conflict to avoid war," a sentiment not totally aligned with the crowds protesting in Barcelona over the past few days, some of whom have been chanting for "military support for Ukraine now."
Stop the War say that Western Europe and NATO's responsibility in Ukraine is "not minor, having helped pro-Western Ukrainian politicians and contributed to the militarization of the country and the region, in the same way as Russia is responsible for its totally unacceptable military actions to gain control of the Ukrainian regions where pro-Russian communities exist, mainly in Crimea and the eastern part of Donbas (Luhansk and Donetsk)."
Support straight from La Rambla
Eleven vans and two trucks carrying aid and supplies will begin a journey from Catalonia to Ukraine between Wednesday night and Thursday.
Most are leaving from Barcelona, but one of the trucks has departed from Tarragona.
An initiative based on Barcelona's La Rambla boulevard has been coordinating the collection of supplies such as canned food, tea and coffee, clothes, powdered milk, painkillers, sleeping bags, blankets, diapers, toothpaste, among other items.
Center to collect humanitarian aid
Canned food, tea and coffee, children's clothes, powdered milk, paracetamol, sleeping bags, blankets, diapers, toothpaste… Everything is accepted in Barcelona's Ukrainian Greco-Catholic church (església de Sant Josep i Santa Mònica), located on 9, La Rambla boulevard.
Every day, from 9 am to 7.30 pm, dozens of volunteers cooperate in order to receive, organize and ship material to the Eastern European country.
"From here is where the trucks actually leave, this is the epicenter. If people want to bring stuff most directly, they can come here," says one of the people involved, Catalina Girona, an American-Catalan woman who is married to a Ukrainian man also living in Barcelona.