Pro-independence protest underway for Barça vs Madrid match – live updates
Tsunami Democràtic group distributes 100,000 banners reading 'Spain, sit and talk' amid heavy security measures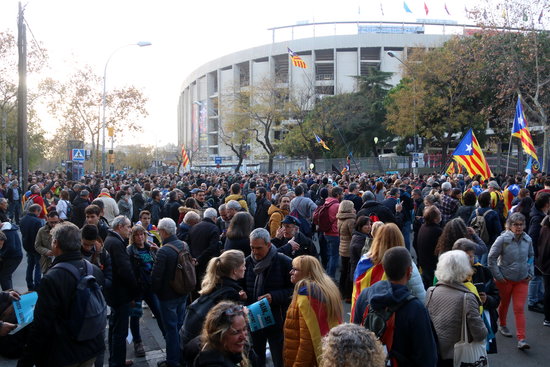 The pro-independence protest called by Tsunami Democràtic ahead of the FC Barcelona vs Real Madrid football match got underway on Wednesday at 4pm amid heavy security measures in the surroundings of Barça's Camp Nou stadium.
The organization responsible for some of the main protests after the 2017 referendum leaders' guilty verdict in mid-October announced it was distributing 100,000 banners reading 'Spain, sit and talk' for El Clásico attendees to bring inside the stadium.
Players of both teams and the refereeing officials are expected to leave the hotel where they are waiting before the match by around 6pm, some two hours before the game kicks off.
In a statement at 4pm, Tsunami Democràtic said it is "essential" that the game takes place and that all attendees can get to Camp Nou.
They also reminded that their actions – which have not yet been unveiled – before and during the game will be "non-violent."
Check our Twitter feed for the latest of the rally, demonstrations, and match: