President foresees extension of lockdown and 'long' economic and social crisis
Torra asks for help from Spanish army and doctors outside Catalonia to come and do "useful and humanitarian work"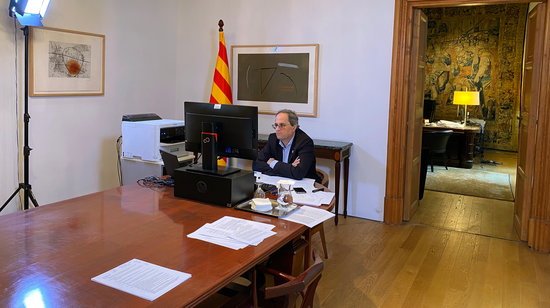 The Catalan president, Quim Torra, believes that the current lockdown will be extended – the state of alarm across Spain ends officially on April 11, but it can be prolonged by the Spanish congress.
In an interview with radio network SER Catalunya on Wednesday morning Torra said that confinement measures should continue "until the experts say that it is no longer necessary," and that was a decision for scientists, not politicians, to make.
The president predicted a "long" social and economic crisis as a result of the health emergency, and called for help from the Spanish army and doctors from outside Catalonia to come and do "useful and humanitarian work."
Spain's measures "insufficient"
President Torra said he still considered Spain's confinement measures to be "insufficient," insisting that it should be the Spanish and Catalan governments and local councils bearing the cost of the crisis, rather than individuals and businesses.
He called for the Spanish government to guarantee workers' wages, implement a universal income, and completely suspend the taxes and fees normally paid by self-employed workers.
"Yesterday's world ended with the first case of coronavirus," said Torra, adding that he hoped the crisis leads to a "more empowered society with a deeper democracy."
Care homes
The Catalan president also addressed the issue of care homes. The coronavirus crisis has shone a spotlight on conditions in homes for the elderly and there has been controversy over whether official figures of covid-19 cases and deaths in such residences were accurate.
Torra admitted that the government could have done better at reporting the situation and that a lack of clarity had led to "social alarm" and a "certain anguish."
In order to remedy this, Torra said there will be daily press conferences to explain developments, adding that the situation in care homes was the Catalan government's "primary concern".
As of Wednesday, coronavirus had affected 30% of elderly care homes in Catalonia, and caused the deaths of 362 residents.