Police break up Barcelona street parties on first full weekend with no curfew
Thousands of revelers take to city's streets and beaches after bars close at 11pm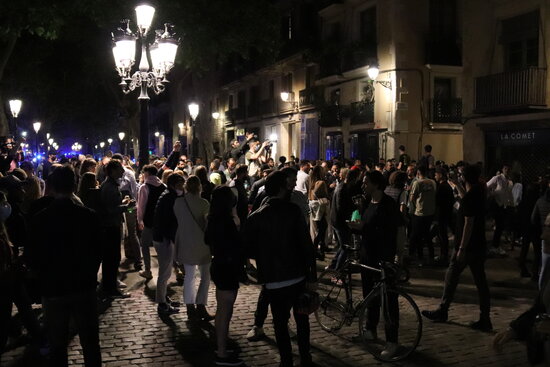 Saturday night in Barcelona saw another night of parties and on-street drinking on the first full weekend with no state of alarm or curfew.
Mossos d'Esquadra (Catalan police) and local police dispersed thousands of people drinking on the streets, most of whom weren't wearing face masks or respecting social distancing norms.
The city's historic center and beachfront were the areas that saw most people gather when bars and restaurants closed at 11pm.
At 12.30am police moved 500 people on from Passeig del Born, an area that has seen several nights of street parties since the curfew was lifted at midnight between May 8 and 9. Hundreds of people on Passeig de Lluís Companys were also told to leave.
Police have said that over 9,000 people were moved on from various locations across the capital, including some 2,000 that had gathered on the beach. On Friday night some 7,000 people were dispersed from large street gatherings.
"We can go out, chat and walk. What we can't do is go out without a face mask, share alcohol on public streets, or gather in large groups because that puts the general population at risk," local police warned.
End of curfew
Last Saturday night large crowds took to the streets to celebrate the end of the state of alarm and the 10pm-6am curfew that had been in place since October.
Police chiefs say they expect the crowds gathering at night to "decrease over time."